Get a Room!
Call it a room boom. Over the past year, three new marquee hotels have flung open their doors in Sacramento, each mixing historic charm with modern flavor. Look for local art, high design and restaurants with noteworthy culinary pedigrees. And more are on the way. So pack a bag, book a show, and turn a date night into a date weekend. Why should we let the tourists have all the fun?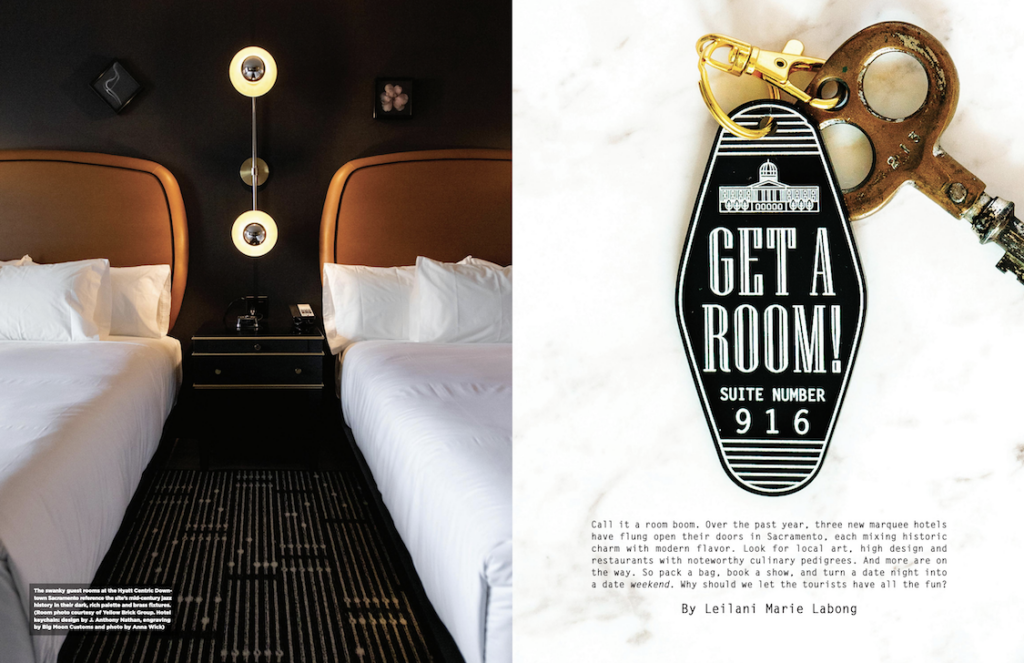 GGiven the quarantine requirements and economic downturn of the last two years, the global pandemic seems like the oddest era for local hotel development to build momentum, but nevertheless, Sacramento currently finds itself amidst a thunderous hotel boom. Just this past year, a trio of boutique hotels catering to the modern traveler have opened. There's an eclectic art collection at midtown's Fort Sutter Hotel, Randy and Stacy Paragary's holy grail of hospitality. Downtown's Hyatt Centric plays off the city's jazz history with its swanky rooftop speakeasy named after the Clayton Club—the site's original mid-century performance venue where greats like Billie Holiday took the stage. And The Exchange Sacramento, housed in a pre-Art Deco building that was once a hub for area farmers to sell their harvest, is now a bespoke Hilton hotel on the outskirts of Downtown Commons that's designed to evoke wanderlust.
At least four other openings around town are soon to follow, including an eight-story Hyatt House. Slated to open this June, the hotel will feature a new development emerging from the adaptive reuse of the historic Eastern Star Hall, a 1928 Romanesque Revival brick building located across from Sutter's Fort. In contrast, a Canopy by Hilton—set to open early next year—will rise in a completely new downtown building featuring 265 guest rooms and 55 private residences. Granted, all of these projects were seeded years before Covid was a virus-sized speck on the planetary horizon, but their completion is well timed to the region's upswing: Not only does Sacramento rank among the U.S. cities that have seen the greatest growth during the pandemic, but our cultural amenities, from the new SMUD Museum of Science and Curiosity to the shiny renovation of the SAFE Credit Union Performing Arts Center, are attracting visitors to the grid who need someplace to hit the hay. One thing's for sure—if you're a local denizen seeking a sublime staycation or a cocktail lounge abuzz with Kings pregame energy, the Sacramento soul of the lodgings on the following pages will be instantly familiar to you. After all, good hotels should always feel like home.
FORT SUTTER
The local roots of this stunning midtown hotel run deep. The fulfillment of a longtime dream of the late restaurateur Randy Paragary, the hotel was designed by Sacramento architect Ron Vrilakas, with the interior design helmed by Stacy Paragary, who co-curated a bespoke collection of paintings by area artists.
Taking in the buzzy happy hour of the ground-floor bar at midtown's Fort Sutter Hotel, located at 28th and Capitol, owner Stacy Paragary is a little choked up. She wistfully recalls the establishment's early days, when she and her late husband, iconic Sacramento restaurateur Randy Paragary—who passed away last August, seven months after Fort Sutter opened for business—would sit in the lobby and marvel at the cross section of humanity that would come through the doors, from business travelers to staycationers with pandemic cabin fever to visitors of nearby Sutter Medical Center. "We'd wonder why they were here," says Stacy, who designed the interiors of the hotel. "And what their story was."
Fort Sutter—part of Hilton's Tapestry Collection—is housed in a new brick building with bright, generously sized guest rooms (thanks to high ceilings and loft-style windows), a soaring lobby (underscored by double-height glass façades) and pre-WWII nods to the neighborhood, particularly in the street-level orientation toward the pedestrian rather than the car, as evidenced by the vibey sidewalk seating of Fort Sutter's signature restaurant, Cafe Bernardo. The energy "is not hidden behind hard walls with no openings, but the opposite—it pulls you in with lots of human activity," says the project's midtown-based architect Ron Vrilakas, who also designed The Sofia performing arts center next door.
The street level is utilitarian in its hard-wearing concrete floors and ceiling, and sets the tone for the lobby's masculine materials, found in the hot-rolled steel hearth, for example, or the book-matched slab table by Sacramento woodworker Steve Tiller, or in the outdoor firepit carved from a single granite boulder, gingerly placed in the movie-screening courtyard with a crane. Stacy softened these muscular elements with diaphanous drapery layered atop the interior's Scandinavian-style, white-washed wood plank walls and local fiber artist Jamie McColl's floor-to-ceiling macramé lobby installation, part of the hotel's permanent art collection.
Each of the six floors exclusively features—both in-room and along the corridors—the work of an area creative, from symbol-encrypted abstract paintings by Susan Tonkin Riegel to chromatic horizons by Micah Crandall-Bear, who curated the assemblage of regional art with Stacy. In this way, Fort Sutter is a showcase of homegrown talent befitting its patron saint, one of Sacramento's most heartfelt believers. "Being a hotelier was an extension of being a restaurateur—Randy just wanted to be a host," Stacy says. "This hotel was his dream."
HYATT CENTRIC

While this downtown hotel just launched last fall, it's steeped in local history and architecture. The façade includes that of the historic Hotel Marshall— which previously occupied the space—and the spirit of the structure lives on in its elegant homage to the jazz club that once counted Louis Armstrong and Billie Holiday among its celebrated performers.
"It's inspired by the shape of a guitar," says senior principal Ben Nicholas of Chicago design firm The Gettys Group, referring to the front desk inside the new Hyatt Centric Downtown Sacramento at 7th and L streets, which opened in October. Dialing up this music-themed reception area is a backdrop of vintage Marshall amps inset with shelves of old vinyl—from Herb Alpert & the Tijuana Brass to Crystal Gayle—that the design team scored from record shops like Kicksville in Sacramento and Davis' Armadillo Music.
Back in the day, the old hotel known as the Marshall once housed a mid-century music venue called the Clayton Club, where legends like Louis Armstrong, Cab Calloway and Billie Holiday often performed. (As an adaptive reuse project by area architecture firm HGRA, the Hyatt Centric still brandishes the historic 1911 Georgian Revival building's brick façade.) "We wanted to have respect for that history, but we didn't want to replicate it," says Nicholas.
The reception area's literal mise-en-scène notwithstanding (after all, the tableau also includes sconces shaped like gardenias, Billie Holiday's trademark flower), the jazz references in the design are often more interpretive, apropos of the riffable music genre. For example, Nicholas explains, the tiered cocktail tables in the lobby could call to mind the cymbals of a drum set, and the light fixtures in the 172 guest rooms may evoke any number of brass horns. Same goes for the dot-and-line pattern on the custom rugs throughout the hotel, and the metal welcome arch in the on-site restaurant, The 7th Street Standard, which were inspired by bars of sheet music, but with no literal notes or clefs in sight.
Speaking of, such written tablature influenced the hotel's black-and-white color scheme, punctuated with deep green and buttery umber (a hat tip to the regional agriculture), especially in the softly curved furnishings of the aforementioned street-level dining room and the contemporary version of the Clayton Club—now a sixth-floor "speakeasy" with an indoor lounge and a terrace with cityscape views. A DJ booth and craft cocktails whet the appetite for the hardwood matchups and big-name concerts erupting next door, at the Golden 1 Center.
Considering its harmonious ties to the city's music history, it's plausible that the hotel's most significant nod to jazz is its knack for getting the mood just right. Says Nicholas, "The space sets the tone for memories to be created."
THE EXCHANGE
Housed inside Sacramento's first high-rise, downtown's 1914 California Fruit Building bearing exquisite terra cotta ornamentation from Lincoln's Gladding McBean, the new boutique hotel owes its colorful makeover to Sacramento designer Whitney Johnson, who breathed new life into this classic edifice.
In its early 20th-century heyday as Sacramento's first skyscraper and hub for regional farmers to distribute their fresh harvest to customers along the Delta, the 10-story, 1914 structure at 4th and J streets originally known as the California Fruit Building was a bustling city centerpiece. (Fun fact: The entire ninth floor once served as Sactown magazine's headquarters.) As a scion of a fruit-and-nut farming family, local real estate investor Sunny Dale purchased the historic downtown property in 2013—nearly a century after it rose in the landscape—to restore its standing as a vibrant nexus: Now known as The Exchange Sacramento, this highly anticipated $30 million Curio Collection by Hilton boutique hotel opened on Sept. 29.
Sacramento hospitality designer Whitney Johnson conjured a fictional character named, aptly, "Mr. Exchange" as a muse for the design. "He's a very well-traveled businessman," says Johnson, who also designed the Shady Lady Saloon and chef Billy Ngo's East Sacramento eatery Kru, and revamped The Citizen Hotel's Grange restaurant in 2016.
In a luxurious envelope of hand-cut Italian marble floors and original slab-marble walls, the grand lobby is appointed with the imaginary globe-trotter's would-be spoils, from a collection of 13 vintage paintings sourced from San Francisco's Lost Art Salon to a front desk trimmed with emerald green Old World-style hotel key tassels handmade in India. Even the hotel corridors evoke the sharp suiting of a mythic tycoon, with dapper patterns on the carpet and wallpaper that might be found on socks or pocket squares, and architectural brass sconces that suggest fashion-forward cufflinks. The hotel's 100 color-themed rooms are equally bespoke, from the custom furniture (velvet-upholstered, regency-style sofas) to the robe ties (emblazoned with motifs from the art collection).
The on-site restaurant, Willow (aka Mrs. Exchange), is slated for a spring 2022 opening and will feature a Mediterranean menu, as well as an unapologetically feminine design of four types of florals, two different stripes, fringe and pompons galore, plus keepsakes like vintage candelabras and painted portraits collected from her husband's travels, not her own. "Willow doesn't leave," Johnson says. "She's like, 'Keep me here—allow me to revel in this beautiful haven.' " Our thoughts exactly.