La Vie en Cinéma
The Sacramento French Film Festival celebrates its 20th year this June. Beret optional, champagne required.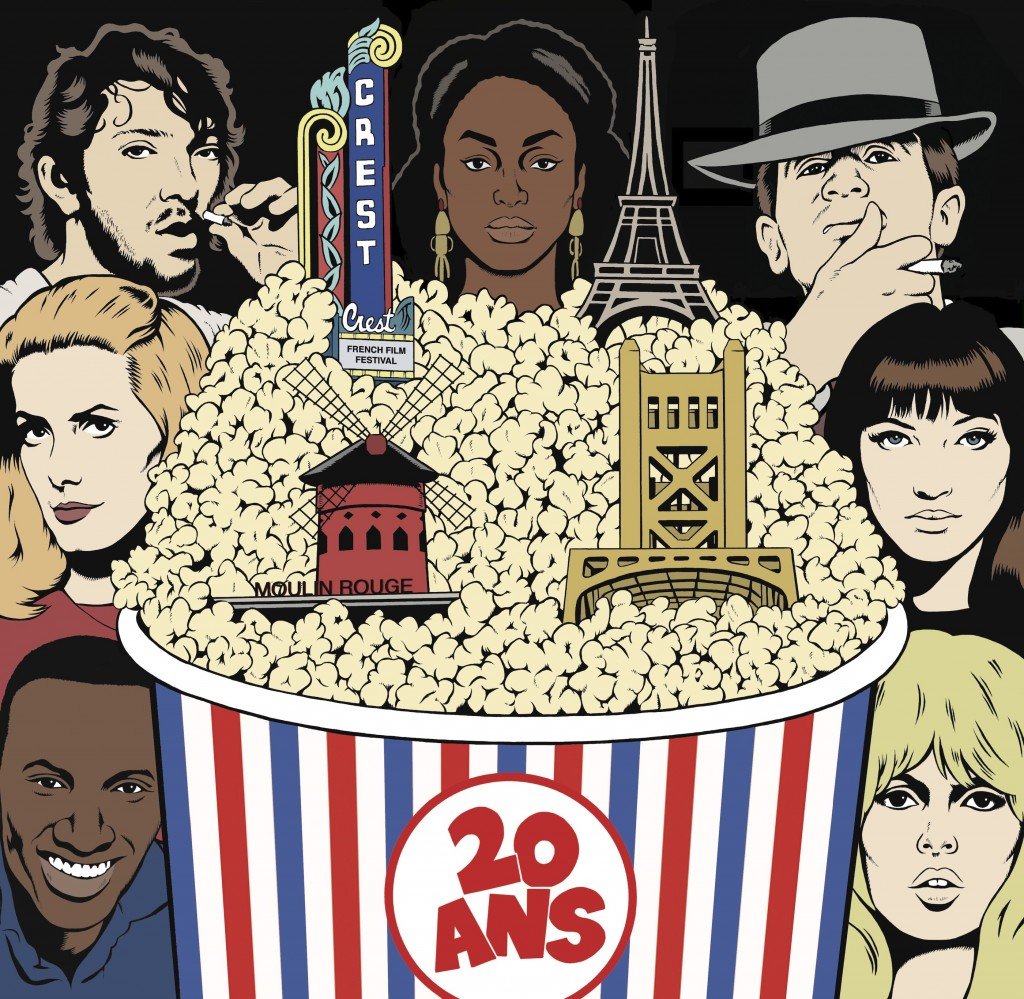 For the past 20 years, the Sacramento French Film Festival (SFFF) has given local cinephiles opportunities to see French classics on the big screen, showing works by major auteurs like Jean-Luc Godard, François Truffaut and Claude Chabrol. The annual event has also celebrated women directors, from French New Wave (Nouvelle Vague) pioneer Agnès Varda to French-Tunisian filmmaker Manele Labidi, whose Arab Blues—which was screened last year—connects to another festival thread that explores the impact of French colonialism in various ways.
And that's just the college cinema studies version of French film. The SFFF's French-born executive and artistic director Cécile Mouette Downs also takes pride in its approximation of what it's like to be an everyday French moviegoer. "I am very happy to show the diversity of French cinema, including popular comedies," says Mouette Downs. In fact, mainstream comedies—which she started adding to the marquee lineup about a decade ago—have become the festival's hottest tickets. "When I showed the first one, I remember some people coming out of the theater saying, 'This is not French cinema,' " Mouette Downs recalls, mimicking a haughty tone, referring to the 2012 screening of Hollywoo, in which a French voice-over artist travels to Los Angeles to convince the American actress whose voice she dubs to rethink her retirement. "But other people were coming out and saying, 'Yes!' "
Mouette Downs has faced bigger hurdles than cinephile snobbery in reaching the festival's 20th edition, from the Great Recession to, most recently, a global pandemic. She and fellow festival organizers have been quick to adapt, expanding or contracting the program as needed. For instance, after showing more than 20 films to live audiences in 2019, the SFFF streamlined last summer to screen 10 movies over 10 days virtually. This year's presentation—which will run June 18-27—will follow the same format, with the exception of two days of in-person programming.
Going mostly or all virtual means missing out on a lot of the bonhomie that accompanies the traditional festival, which provides an excellent excuse to dress up and drink champagne or eat pastries. And one can always bank on overhearing rapid-fire French spoken in the women's restroom at the Crest Theatre, the festival's home most years. It all started in 2002, however, at the Tower Theatre, not long after Mouette Downs—who moved from Paris to New York in 1998 to work for the French Embassy promoting French film stateside—followed her then-boyfriend (now husband) and festival board member, biologist John Downs, to Sacramento.
Founded by Mouette Downs and two Francophiles Connie Georgiu and Marie Gallo, the first festival lasted a weekend and featured the popular romantic thriller Read My Lips, starring Vincent Cassel as an ex-prisoner engaged in office intrigue, and Band of Outsiders, the 1964 Godard classic about a trio of cool-cat aspiring criminals. Mouette Downs booked the Godard film for free through her New York movie industry contacts.
On opening night, the line outside Tower Theatre before the screening of Read My Lips stretched around the block. The Sacramento Bee and the Sacramento News & Review movie critics had unexpectedly boosted the festival's signal with late-breaking stories. "We owe our success to them," Mouette Downs says. The long lines for the films continued as the event built a substantial, loyal audience, and in 2013, Mouette Downs received one of France's highest honors, the chevalier de l'Ordre des Arts et des Lettres.
Although the co-founder says it has been challenging to "renew" the core audience for its flagship gathering, the organization's Winter Shorts Fest—which screens short films nominated for a César Award (the French equivalent of an Oscar)—always attracts new festivalgoers. Last year's event, held in February, sold out at the Tower Theatre. At the end of the night, the audience voted to give a "Sacramento Award" to director Yves Piat's 2018 Oscar-nominated short film Nefta Football Club.
Also popular have been the post-film Zoom Q&As during the pandemic, led by festival board president and Sacramento State French professor Kevin Elstob, who has been with the SFFF since the beginning, along with festival managing director and board treasurer Jane Berner, who worked for years in programming at the Chicago International Film Festival. (Gallo left the group after the second year, and Georgiu recently retired from the festival board.) "Some of [the talks] last an hour and a half," Mouette Downs says. "I don't know if people feel more comfortable asking questions online than in the theater, but people just love it."
Whether French distributors will continue to offer new films online post-pandemic remains a question mark, but the SFFF plans to keep hosting discussions virtually either way, which will only serve to further expand its devoted following. Says Mouette Downs about the lasting impact of the Sacramento French Film Festival, "I think we definitely created a community."
The Sacramento French Film Festival runs June 18-27. sacramentofrenchfilmfestival.org
You Might Also Like
Floating Our Boats – A suggestion for a Paris-style "floating cinema" 
The Big Picture – How focus on cinema and-level projection could bolster our arts