A new neon sign will soon light up Old Sacramento Waterfront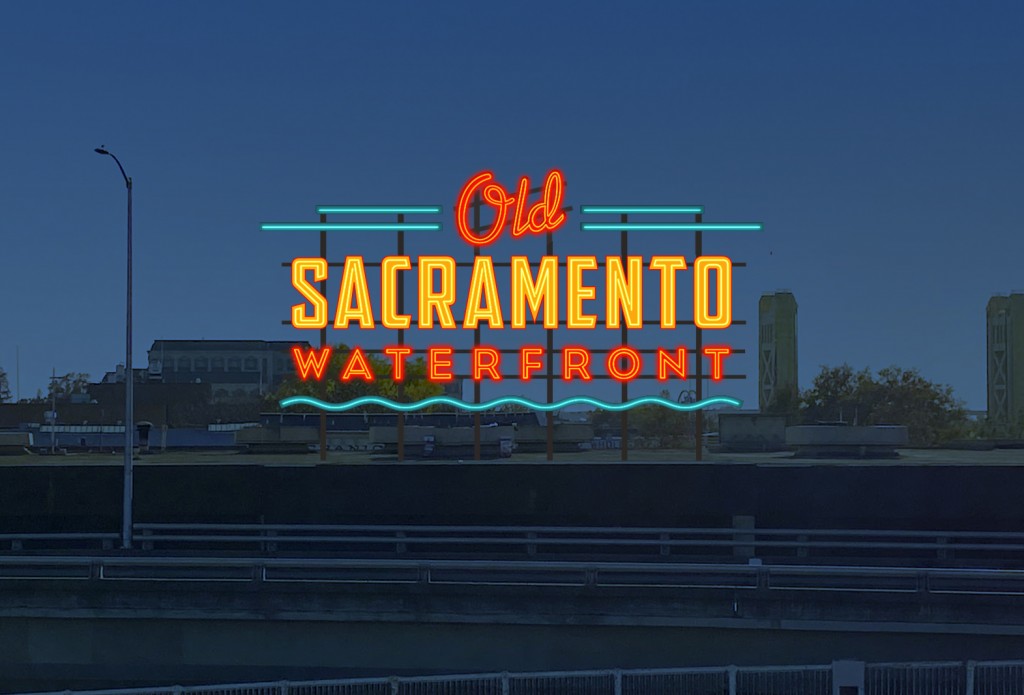 A new "Old Sacramento Waterfront" neon sign is set to be installed later this year atop the California State Railroad Museum, beckoning southbound drivers on I-5 to stop by for a visit. The sign will stand 26 feet tall and 45 feet wide and is expected to be illuminated with a combination of neo-neon (read: LED) and old-school neon tubes of gold, red and teal.
Commissioned by Downtown Sacramento Partnership (in partnership with California State Parks, the California State Railroad Museum and Foundation, and the Harvego Family Foundation), the sign was designed by Sacramento-based Pacific Neon Company, whose work includes refurbishing the six historic neon signs hanging inside the Golden 1 Center (including those for Tower Records and Shakey's Pizza) and creating the new Broadway sign installed in February 2020 at the corner of X and 3rd streets, along with lighted signage atop downtown's Pizza Rock and the Esquire IMAX Theatre.
For the Old Sacramento Waterfront sign, designer and account representative Ryan Drury—a third-generation sign crafter for Pacific Neon (his grandfather started the business in 1946)—says Pacific Neon decided to forgo modern fonts for Monolith Script and two custom versions of Eagle, typefaces reminiscent of the city's mid-century neon heyday. Above the typography are parallel lines that nod to the region's historic rail tracks and below is an undulating stroke of blue, a minimalist interpretation of Sacramento's two rivers and port origins. The coloring for the city's name alludes, naturally, to the Gold Rush.
"We wanted to create an instantly recognizable landmark, not just locally, but for the region as a whole," says Scott Ford, district operations manager for Old Sacramento Waterfront.

The sign is the latest effort to revitalize the waterfront. A temporary 65-foot Ferris wheel, which was unveiled last October, will stay through the end of this year, and a Front Street carousel was installed in January after a 9-year-old boy sent a handwritten letter requesting that the district include the ride.
"As the oldest operating electrical sign manufacturer in the city, we've sadly seen many signs come and go," says Drury, who counts the old Philipp's Bakery sign on Folsom Boulevard and the Coca-Cola Bottling Co. sign on Stockton Boulevard among his favorite neon signs gone dark. "But this sign will definitely make its mark."
Funding for the project is currently being raised through private donations by the Downtown Sacramento Foundation and the Rotary Club of Sacramento's young professionals group, with the goal of erecting the sign by the end of the year. To date, about $85,000 has been raised—nearly half the cost of the finished project. Donations from the public are welcome. To find out how you can contribute, visit the Old Sacramento Waterfront website.
You Might Also Like
Modern Classics
Sacramento photographer captures the glow of the past at new neon-sign exhibit