Pizzasaurus Rex roars into Sacramento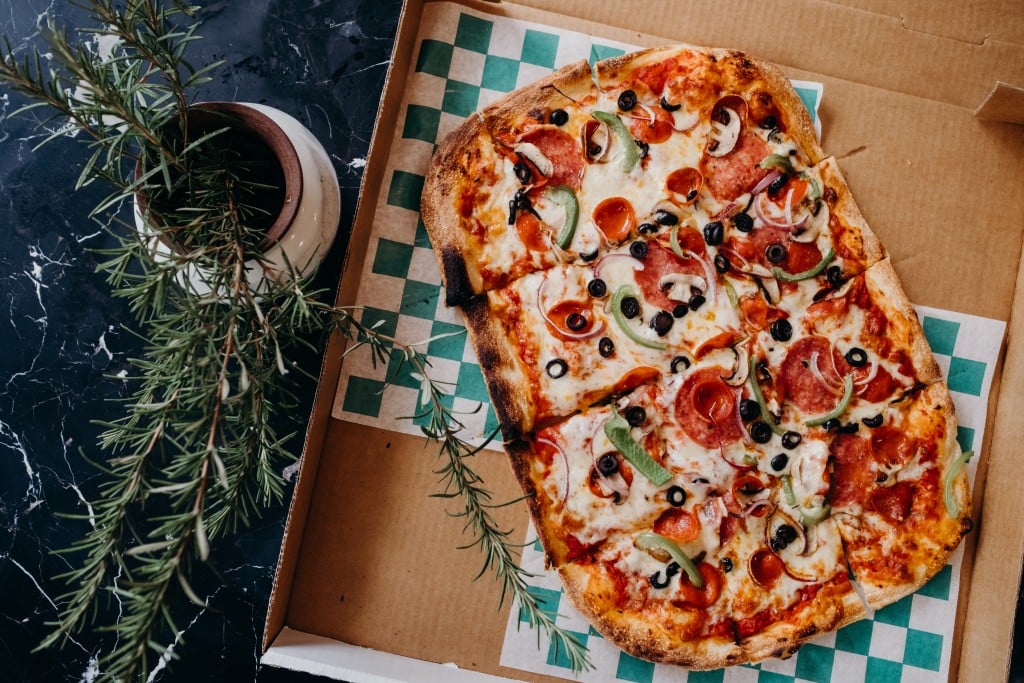 Midtown's newest pizza joint, Pizzasaurus Rex, will be joining Sacramento's crust-aceous era when it opens on Saturday, Jan. 16, in the former Sticky Gator BBQ space at K and 24th streets.
"We had been playing around with much more serious pizza names, but I eventually disliked all of them," says owner David Smith. "Finally, we thought, 'What if we did something that's not too serious?' " That playful tone is characterized by a munching dino mascot—designed by Sacramento artist June Ray and painted by local muralist Jeremy Stanger—which appears throughout the shop.
The restaurant, located next to The Golden Bear and just down the block from Flamingo House, will specialize in one-size-only, 18-by-13-inch rectangular pies, fired for six to eight minutes at 475 degrees in the restaurant's brick deck oven. The starting menu of seven blistered thin-crust pizzas—available for takeout and outdoor dining on the patio—will include staples like a melty three-cheese version topped with mozzarella, provolone and ricotta, as well as a hearty vegan combo with faux pepperoni, mushrooms, olives and bell peppers. A house-made, secret-recipe red sauce provides a sweet and tangy background note. Farm salads and Belgian frites are on the horizon, but during this current Covid confinement, Smith is sticking to what he does best—pizza.
Much like the dinosaur era, the Pizzasaurus pies are subject to evolution. Smith, who also runs Old Town Pizza and Tap House in Elk Grove with his wife Jamie Dougherty, is a self-described tinkerer and a perfectionist. The 38-year-old pizzaiolo, who gained experience working at Mountain Mike's for over six years while in high school and college, plans to add new topping combinations to the menu with input from his staff and customers.
To wash down the sizable rectangular repast, 12 beer taps will fill takeaway growlers. Cans from local breweries like Moonraker and Flatland, as well as a selection of Northern California low-intervention wines, like Monte Rio Skull Red of Sebastopol, will also be available for pie pairings.
Once indoor service resumes, customers will be able to dine within the 2,000-square-foot shop's tableau of warm minimalism, drawn from a natural materials like soapstone, marble and wood, not to mention a jungle of big-leaf monstera plants. By summer, Smith plans to have the courtyard ready for warm-weather dining with shady awnings, more lush foliage and another dinosaur mural, a teeth-to-tail Stanger creation. Also in the near, hopefully Covid-contained future, Smith will launch by-the-slice orders from the courtyard Dutch door for diners seeking a grab-and-go lunch as well as the hungry late-night crowd.
Smith and Dougherty have longed to bring the camaraderie they've experienced at their Elk Grove eatery to the grid, where they've lived since 2005. The Elk Grove natives and high school sweethearts grew up just around the block from Old Town Pizza. And just like back in the day, their new pie joint is within walking distance from home sweet home.
Mon.-Thurs. 11 a.m.-9 p.m. Fri.-Sat. 11 a.m.-10 p.m. 2322 K St. eatpizzasaurusrex.com
You Might Also Like
A sneak peek at the colorful new Devil May Care Ice Cream shop
Veggie Supreme
Sactown's Most Popular Stories of 2020