Planting Ideas
At Burger Patch's new Land Park location, husband-and-wife owners Phil and Danea Horn think outside the vegan bun and launch an innovation lab, where they'll be cooking up new creative plant-based concepts. Fishless fish tacos, anyone?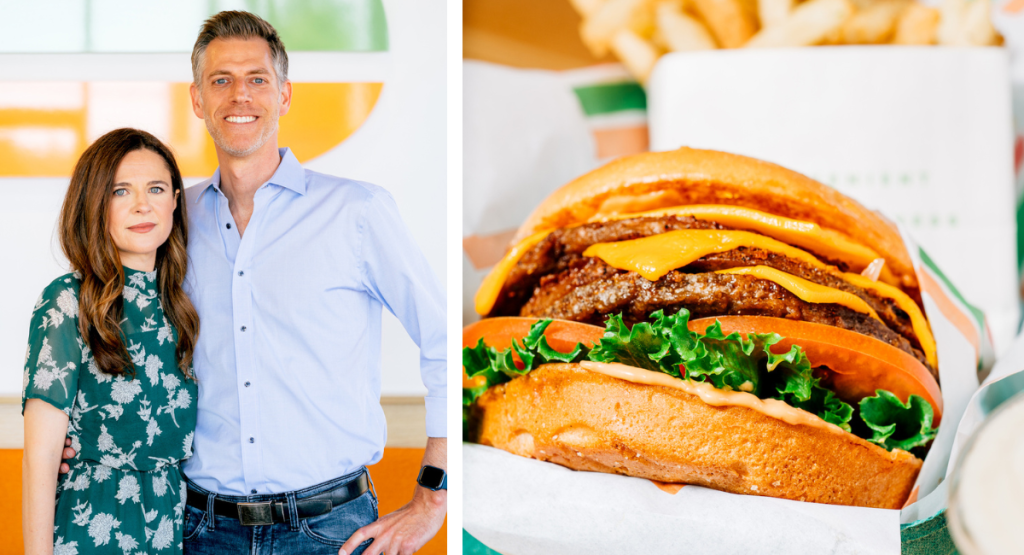 For Burger Patch's titular sandwiches, nostalgia may be the special sauce—to rival the local vegan chain's signature spicy Thousand Island-style slather—that makes the single-, double- and triple-decker stacks utterly devourable. While owners Phil and Danea Horn may have developed their plant-based fast-food brand—which opened its fourth eatery and first innovation lab in Land Park in April—in the years following a health reckoning, their public approach was strictly sentimental: draw in diners to the meatless joint by stirring a youthful longing for fast food. "People will email me and say, 'I dined at your place two days ago and someone just told me it's entirely plant-based. I had no idea,' " says Phil of Burger Patch's built-in "gotcha" moment.
But although the meatlessness is veiled in fast-food familiarity—the Beyond Burger patty gets its beefiness, if you will, from yeast extract and rice and pea proteins—plant-based eating isn't just better for you, it's also kinder to the planet. Nearly 15% of all greenhouse gas emissions come from animal agriculture, according to the Food and Agriculture Organization of the United Nations. If the environmental impact isn't convincing enough, the harrowing animal-welfare issues in factory farming could turn even the most devout carnivore into a herbivore, but we'll leave those graphic details and inconvenient truths to must-see documentaries like Cowspiracy and Food, Inc.
"My philosophy around plant-based eating has always been to recreate favorite meals. I started tinkering with recipes and it grew from there," says Danea, who has suffered from illnesses like chronic lung and kidney diseases stemming from a rare birth disorder called VACTERL association, and thereby has had an earlier start on healthy eating than her husband, who grew up in Oregon indulging in cheeseburgers and chocolate milkshakes at Burgerville, an iconic Pacific Northwest franchise. In 2012, the couple—who had stopped eating meat four years prior—made the transition to veganism in preparation for Danea's upcoming kidney transplant, for which Phil (thankfully a blood-type match) acted as the donor.
"Once we realized her kidney transplant was imminent, we started having conversations about how the best thing to help prolong the life of her existing kidney was to make the move to a full plant-based diet. Through that process, both of us realized that living a plant-based lifestyle would also be the easiest way for our bodies to recover and thrive once we were past the initial surgery," says Phil, who has spent most of his career in the NBA front offices of the Portland Trail Blazers and Sacramento Kings. In fact, one of his favorite food documentaries, The Game Changers, has been particularly meaningful, exploring the effects of plant-based eating on the performance of professional athletes, from Phoenix Suns point guard Chris Paul to Olympic cycling medalist Dotsie Bausch to vegan evangelist and powerlifter Patrik Baboumian, who says in the film, "Someone asked me, 'How do you get as strong as an ox without eating any meat? And my answer was, 'Have you ever seen an ox eating meat?' "
Phil served as the senior vice president of sales and service for the Kings for a decade before leaving in 2019 to pursue the life of a restaurateur. "I thought I would never leave that job— until Burger Patch had lines around the corner," he says of its inaugural one-day pop-up in May 2017 in midtown. "We had a four-hour-long line," recalls Danea. On offer was a limited menu of house-spiced Beyond Burgers (the first time the famous faux-tein was served commercially in Sacramento), "chicken" strips, French fries, shakes and vegan sauces. A sophomore pop-up a month later proved that Sacramento's first plant-based fast-food joint wouldn't just be a flash in the pan.
"We felt like this was going to happen one way or another. It was going to come into being, and we just needed to be good stewards of it, believe in it and be open to moving it forward," says Danea, unwittingly metaphorical of her transplant experience. (She is currently a postdoctoral scholar at Stanford studying health economy—more specifically, how cancer drugs and other innovative pharmaceuticals can be made more accessible.)
Burger Patch's now-shuttered Golden 1 Center concession stand opened in November 2018. The midtown eatery on 23rd and K streets opened in May 2019. Two more restaurants came online during the pandemic—at the Davis Commons in June 2020 and in East Sacramento in May 2021. Whether it was the Covid era's heightened awareness of health and well-being, or fast food's trademark takeout modality, or the rare convergence of the two, Phil says that Burger Patch's business increased 30% over the pandemic. The Horns are funneling that mighty momentum into a double-digit expansion in the Bay Area, where the couple is currently scouting spots in "all the neighborhoods."
"We were overwhelmed by how much business we had," he says. "We had stacks of [order] tickets and we could not catch a break until 1 a.m. It was pretty wild." The new growth inspired the build-out of the 3,500-square-foot flagship location in Land Park, which is Burger Patch's largest space by far (in comparison, the original midtown spot is just 750 square feet) and includes a Kitchen of Innovation and Discovery (or K.I.N.D. Lab for short). Appropriately glass-walled and kitted out with shiny stainless-steel work stations, plus a library of dried spices, the space is one part testing ground and one part central pantry, producing provisions for all Burger Patches.
"We make over 50% of what we serve. We're not just taking frozen products and throwing them on the grill. We're making a lot of these things from scratch," says Phil. The Beyond Burger patties are blended with a proprietary dried herb mix to provide extra savoriness—Phil and Danea remain mum on the medley—and then seared on the flat-top for a satisfyingly steaky singe. The signature Patch Burger layers on melty American-style "cheese" from Daiya, crisp lettuce from Gotham Greens (a hydroponic farm in Davis that says it uses 95% less water and 97% less land than its traditional counterparts), and a vegan bun from Truckee Sourdough Company.
Also under lock and key are components of the luscious house-made vegan sauces, which are extra creamy—whether the velvety texture comes from cashew cream, veganaise or even coconut yogurt, your guess is as good as ours. "I like my ranch extra tangy, so our ranch sauce is a big herby blend that's got a little lemon zest to it," says Danea, who conducts a lot of recipe experimentation from the couple's home in the Pocket neighborhood, where they live with their chow-shepherd mix Tawny, a rescue from the Front Street Animal Shelter. (Along with other regional nonprofits like Colfax's Blackberry Creek Animal Farm Sanctuary and Women's Empowerment in Sacramento, Front Street has been a beneficiary of the chain's Patch Match program, which donates a portion of every burger sold to a different local charity each month.)
The Burger Patch barbecue sauce has a smoky chipotle undertone and a thickness that's meant to "hold up a French fry," says Phil. One thing's for sure: It's a perfect dipper for the breaded "chicken" tenders, a Beyond Meat product that's surprisingly not made of the benchmark poultry impersonator known as tofu, but rather wheat and fava bean protein.
"Many things do just taste like chicken, so it really comes down to bite and texture, and then maybe the aromas," says Phil. Burger Patch food engineers developed a plant-based egg—Himalayan black salt provides the telltale sulfurous note—for the breakfast sandwiches. A recent pulled "pork" sandwich called the Pulled Patch, which featured a meatless product from Before the Butcher, also came together through experimentation. A Birthday Cake shake made from cashew milk and vegan birthday cake and frosting from locally based Pushkin's Bakery was manifested to celebrate Burger Patch's fifth anniversary in May. In the coming months, Danea may hand over her vegan Caesar salad dressing for finessing in the K.I.N.D. Lab, as well as a fish taco recipe using a "seafood" filet from Gardein.
While skeptical foodies tempted to take a plant-based leap can consult a flood of flattering online Burger Patch reviews, Phil has a soft spot for in-person testimonials. "People will come into our restaurant and say, 'This actually tastes better than that other [fast-food] place,' or 'I thought I'd give it a try, and it changed my life,' or 'I don't miss the meat,' " he says. "Without us having to stand on a soapbox and preach, people are finding their way to this kinder alternative."
Land Park location: 4400 Freeport Blvd. 916-898-1656. burgerpatch.com
Learn About More Great Places to Eat
A Shire Thing – Downtown's There and Back Again Cafe
From Paris With Love – West Sacramento's Franquette
The Magnificent Seventh – Downtown's The 7th Street Standard