Ruhstaller Farm in Dixon to celebrate grand opening for new taproom and brewery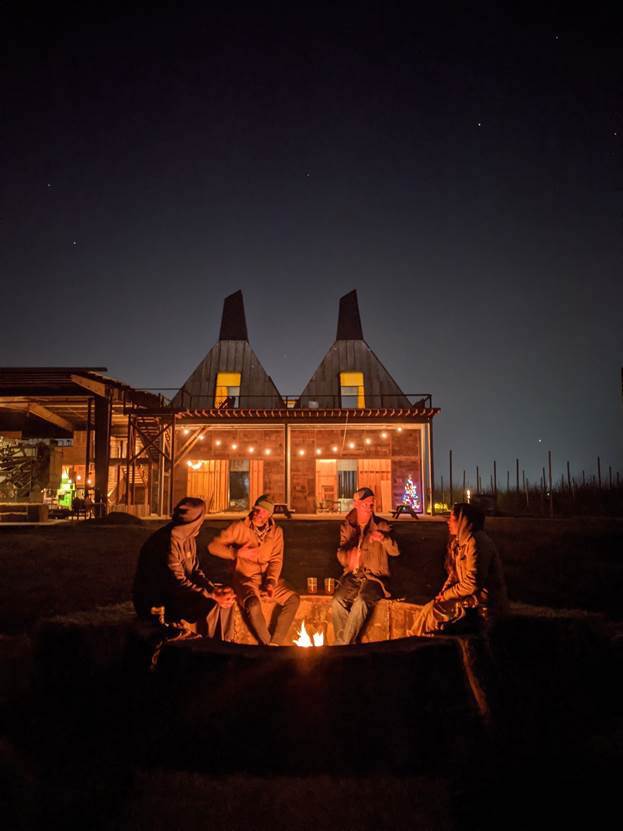 On March 20, Dixon's Ruhstaller Farm—which quietly launched its taproom last December—will celebrate a long-awaited grand opening, debuting an ambitious project that proprietor and beer aficionado Jan-Erik Paino (who goes by J-E) started 10 years ago when renowned epicurean Darrell Corti of Corti Bros. supermarket threw down an irresistible gauntlet.
The story of how the gentleman grocer challenged Paino to brew beer with locally grown hops (at the time, the closest hop farm was in Lake County) has been recounted so often—here first, by the way—that it's now an integral part of Sacramento beer lore. Luckily, Paino's quest to revive the region's pre-Prohibition prestige as the hops-growing, beer-making capital of the United States has a patron saint in Frank Ruhstaller, the Swiss immigrant who ran Sacramento's largest brewery over a century ago (his so-called "proverbial" grandson Jimmy's mischievous countenance serves as the company logo).
From our vantage point on the redwood deck above the open-air taproom, Paino and I watch a mountain biker cruise over the boardwalk through the property's 35 acres of walnut trees and 3.5 acres of hops. Or rather the 3.5 acres of bare poles that will soon secure the twine that the currently dormant hop bines (yes, that's with a "b"—hop plants climb like vines, but they don't use tendrils to do it) will cling to later this spring and throughout the summer. We watch parents chase small children who are ambling through cover crop (mostly mustard, which is currently blooming), and confuse a small terrier for a coyote. As a hawk flies overhead, eyeing the ground for gophers, a look of brief contentment washes over Paino's face. "I love seeing the Farm work like it's supposed to," he says.
The Farm's new twin structures—recognizable by their pyramidal roofs with odd-shaped chimneys—punctuate the landscape. While they may seem architecturally curious to most, they actually take the form of traditional hop kilns, and these are the only ones working in Northern California. Putting his architecture degree from Princeton into good use, Paino, 48, gave them an edgier design with heavy glass doors, a small glass tunnel linking the two towers and exterior cladding that epitomizes farming with the most agrarian of materials: corrugated metal that's already taken on a rusty, character-building patina. During the September harvest, fragrant green hop flowers will dry in the kilns—via hot summer air currents, not fire—on their mid-floors of redwood slats salvaged from a falling-apart 1875 Victorian farmhouse in West Sacramento. Off-harvest, the ground floor of the kilns will be able to accommodate visitors in case of rain or strong winds or plain curiosity. Paino loves the view from the ground up through the slat floor to the high ceiling.
Over the years, Paino has opened—and then moved—a couple of taprooms in downtown Sacramento and on other rural Dixon acreage (his subterranean Ruhstaller BSMT taproom on the 700 block of K Street remains, but is currently on a Covid hiatus). Ruhstaller Farm is different, and the closest the region has come to a beer version of a winery.
"When you visit a winery on a vineyard, you're learning about agriculture. You're learning about the craft of making the wine. Usually there's a beautiful building involved," says Paino, who worked in vineyards of Napa and Sonoma doing construction and picking grapes after college. "There's nature and atmosphere that is wonderful to experience. That's how wineries drive home the agriculture component that influences the beverage. And that's what we're doing here on the Farm with hops and beer."
Paino also says he'd like to see other farmers join his modern-day pursuit of a bygone local industry and turn the region into the Napa Valley of beer. There are a few who've joined his cause, including Calen Lange, a farmer in Winters, and Dave Utterback of Sloughhouse, who is restoring part of the old Signorotti Ranch, the last hop farm in the immediate area, which ceased operations in 1985.
In many ways, Ruhstaller Farm is merely a proof-of-concept of the bigger dream. Because it doesn't really matter how many beer lovers come out on March 20 to dance to live bluegrass music by Dixon's Pleasant Valley Boys or tuck into the tacos and tortas made fresh onsite (a regular weekend special; on Fridays, however, the Farm offers rösti, a Swiss potato pancake in honor of you-know-who), or bend an elbow for any of the 10 Ruhstaller suds on tap, from a pre-Prohibition-style cream ale, subtle and smooth, to a woodsy triple IPA and a house kombucha fermented from a blend of green and black teas. The fact is that there is still only one hop farm in the Sacramento Valley with an on-site taproom, brewery and cool architecture. But then again, Rome wasn't built in a day, and perhaps more relevantly, the Napa Valley's wine-growing tradition took about 100 years to make its mark.
Paino admits that the March 20 celebration is somewhat intimidating, as if the looming date signals the culmination of a decade-long passion project he's not ready to give up. Nevertheless, Paino knows a guy who can keep him busy for the foreseeable future. "I'm sure Darrell will be able to come up with another 10-year challenge I can't refuse." Your move, Corti.
Grand opening on Saturday, March 20, Noon-9 p.m. Regular hours will follow, Tues.-Fri. 3-9 p.m., Sat.-Sun. 12-9 p.m. 6686 Sievers Rd. Dixon. ruhstallerfarm.com
You Might Also Like
The Great Sacramento Beer Boom of 2018
Once Upon a Time in Mezcalifornia
Déjà Brew