Sacramento's Top 10 Pizzerias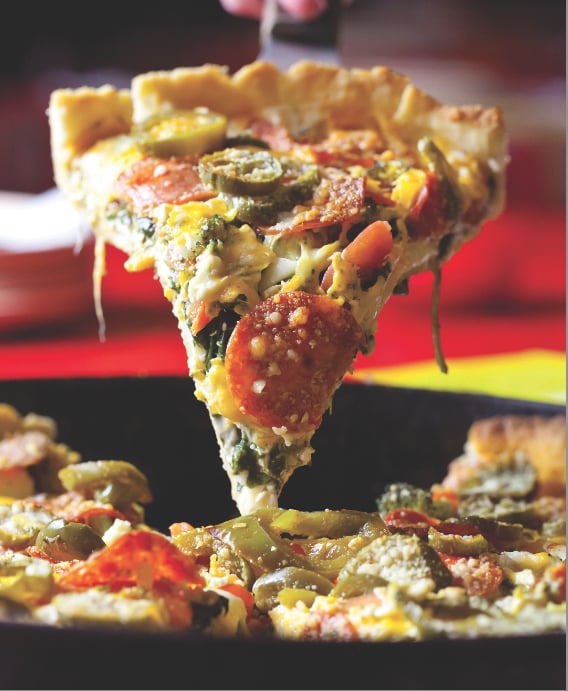 Welcome to our life of pie. From deep-dish pesto pizzas to thin-crust margheritas to savory vegan or bacon-topped wedges, we've eaten our way through town to find the best pizza emporiums in the Sacramento region. Herewith, our list of 10 favorite local spots where the slice is always right.
Hot Italian
627 16th St. (916) 444-3000.
500 1st St. Davis. (530) 792-7015.
hotitalian.net
"Veloce," the word featured in black tile on the façade of Hot Italian's wood-burning oven at its Sacramento location, means "fast" in Italian. While other words (such as "passione," which needs no translation) are displayed nearby, an allusion to speed is fitting to put front and center: The imported oven burns hardwood at a blistering 700 degrees Fahrenheit and turns out the restaurant's signature thin-crust, Neapolitan-style pies (all, amusingly, named for hot Italians like actress Monica Bellucci) in just a couple of minutes. Thank goodness, too, because once we've ordered one (or two or three) of the menu's many luscious combinations, we want to be eating it as fast as possible. Our faves at this pizzeria—founded by Andrea Lepore and pizzaiolo Fabrizio Cercatore in 2009—include the Stella, topped with meaty mushrooms, creamy crescenza cheese and salty, whisper-thin prosciutto (be sure to put the optional egg on it to add to the textural contrast) and the aforementioned Bellucci, which features house-made sausage and dollops of lush ricotta. Some pies are added seasonally—this winter we're especially loving the Bortolami, with sausage, bitter Treviso radicchio and smoked mozzarella. Weekend loungers, take note: Hot Italian also offers inventive brunch pizzas, perfect for la dolce vita.
The Razzoli has scrambled eggs, rich fontina and caramelized onions; the Nibali is topped with local Bariani truffle oil. Pizza is far from the only draw: local soccer enthusiasts know that European matches are often playing on one wall, and sweets lovers will thrill to the gelato and espresso bar near the front (don't miss the specialty affogatos, twists on the classic Italian dessert). It's all dished up in a chic black-and-white midtown space (good news for pizza lovers outside the grid: a Davis outpost opened in early 2016), to which, trust us, you'll want to return often—and veloce. —Kate Washington
---
OneSpeed Pizza
4818 Folsom Blvd.
(916) 706-1748.
onespeedpizza.com
On any given weeknight, easygoing East Sacramento eatery OneSpeed—Waterboy chef-owner Rick Mahan's six-year-old pizzeria—is overflowing with locals. Although the menu is not limited to pizza (the burger is killer), let's be real: they're there for the pies. We especially love the simple but excellent margherita (perennially the restaurant's most popular), the savory vegan pie (topped with seasonal vegetables, Calabrian chili oil, and fresh arugula) and the signature Rick's Pie. Balanced and complex, the latter combines sweet caramelized onions, bitter-salty olives, potatoes and rich mortadella from Olympic Provisions with a tangy chèvre and salsa verde.
Over the years, the meat has varied, but the other accouterments have, thankfully, remained the same. Recently, Mahan has introduced a New Jersey Pie, topped with a chunky tomato sauce with chewy salami bits, a hit with a surprisingly big contingent of diners who hail from the Garden State. He's also tweaked the formula for the all-important crust (he aims for a style somewhere between cracker-thin Neapolitan and doughy American) by switching to a domestic 00 flour (a finely milled type with more protein) from Utah's Central Milling, a favored supplier of artisanal bakeries nationwide. Easier to handle and quicker to crisp up, the stretchy, bubbly dough bakes to perfection in just seven minutes in the 650-degree gas-fired oven—memorably surrounded by a bright mosaic by local artist Val Fernandez. It's the centerpiece of the restaurant's low-key, bike-themed decor, much as the pizza is the centerpiece of this neighborhood favorite.  —Kate Washington
---
Village Pizza & Grill
403 G St. Davis.
(530) 750-0100.
villagepizzagrill.biz
As much as Village Pizza & Grill, housed in a historic century-old Craftsman, is beloved within the Davis city limits (or even as far as the district line: "Best Pizzas in Yolo County," proclaims its website), it is not the place to fulfill your reveries of a seasonal farm-to-fork meal. In fact, owner Aziz Fattahi, an auto mechanic-turned-baker, is admirably unapologetic about his clashing ethos here in the cradle of agriculture, citing a year-round need for fresh tomatoes.
That said, since 2009, the restaurant has been a crowd-pleasing destination for tasty full-bellied nourishment at a good value. (Its sister establishment, Village Bakery, started making pizza in 2000.) Fattahi brings his self-taught baking savvy to a thin and airy crust: New York-style, by his estimation, even though it isn't tossed, but rather gingerly hand-stretched on the counter. Light applications of sauce and cheese allow a glut of toppings the limelight, bucking the trend of sparsely decorated pies that abound across the causeway. The Meat Veggie Combo is one such inundation, piled high with pepperoni, salami, sausage, bell peppers, onions, mushrooms, olives, and those ever-available tomatoes. The rest of Village Pizza's menu is also comfortingly familiar, including the more adventurous pies. The smoked salmon (lox, red onions, crème fraîche), for instance, evokes Sunday mornings at the bagel shop, while the eggplant (roasted eggplant, Kalamata olives, feta) conjures Fattahi's native Iran. Because ultimately, pizza is nothing if not comforting and familiar, and tucking into a fully loaded pie on Village's convivial outdoor patio, corner fireplace ablaze, is just one of those iconic Davis dining experiences that hits the spot like whoa. —Leilani Marie Labong
---
Chicago Fire
Multiple locations.
chicagofire.com
True artistry can't be rushed—after all, you don't go to a caricaturist for a Mona Lisa. Chicago Fire founder (and former Chicagoan) Eric Schnetz opened his flagship pizzeria on Folsom's Sutter Street in 2003 firmly rooted in the idea that folks don't mind waiting a little longer—a typical deep-dish order takes 35 to 40 minutes—for fresh, handmade food. He's now up to five locations—including one in Roseville and midtown Sacramento, and another in Folsom, at the Palladio shopping center—each bustling with diners tucking into his hearty deep-dish pies that are served in the 2-inch-deep tin pans they were baked in.
Although Chicago Fire offers pies in other crusts, we almost always go for the signature Chicago-style deep-dish pizzas, and our favorite is the classic combo, which features a rich, flaky crust (made in-house daily), mozzarella, vibrant plum tomato sauce, pepperoni, green peppers, onions, mushrooms and chunks of Italian sausage, which is special ordered from a Chi-Town meat packer). The flavor profile itself may not be new, but there's power in the delicate way the flavors are balanced, with the anise from the sausage playing off the peppery notes in the sauce, which, in turn, enhances the earthy quality of the mushrooms. If you're feeling more adventurous, the Second City BBQ is another great go-to. The same incredible deep-dish crust and creamy cheese is topped with Canadian bacon, red onions, fresh scallions, a sweet and tangy house-made barbecue sauce (which uses the house red ale), and tender grilled chicken imbued with a delectable smokiness. With underwhelming fast-casual pizzerias popping up on every corner, Chicago Fire is a worth-the-wait breath of Windy City fresh air. —Jennifer Resnicke
---
Federalist Public House
2009 Matsui Alley
(916) 661-6134.
federalistpublichouse.com
For a few moments of geographical uncertainty, patrons of Federalist Public House, tucked in an alley behind Waterboy, are richly rewarded. Just finding the restaurant feels like you've discovered a secret. The unique shipping-container architecture sparks curiosity. The clamor of lively conversations transpiring in the open-air dining room, set up with long, beer garden-style community tables, draws you in. And the Neapolitan-style pizza—wood-fired in an oven affectionately christened "Vader" for its black mosaic tile dome—is daring and creative. Not even the inventor of SPAM could have foretold the Fremont pie, an elevated portrayal of the cult classic Hawaiian, in which the disparaged canned meat is smoked with applewood to keep up with posher ingredients like fresh pineapple, fiore di latte mozzarella and San Marzano tomatoes. Owner Marvin Maldonado, an architect by trade who has designed such local restaurants as Fox & Goose and Blackbird, never imagined that his grandmother's soulful Mexican breakfasts would be translated into the Federalist's signature Southside pie, topped with spicy roasted pork chorizo, brunoise Yukon gold potatoes, Monterey Jack cheese, and chili oil. Such flavorful fare is equally virtuous: Chef Shannon McElroy harvests eggplants (two varieties) and basil (three varieties) from the restaurant's roof garden and sources meats and produce from nearby farms. The local contingent also dominates the suds lineup—Track 7, Ruhstaller, and Knee Deep (among many others) are always on tap. With gourmet pies on the table and generous liter-sized draughts in hand, merriment among strangers is practically a foregone conclusion. "If you think about it, pulling slices off a pizza is not all that different from breaking bread," says Maldonado. —Leilani Marie Labong
---
READ MORE: 30 Things Every Sacramentan Must Eat – Our rundown of the city's can't miss food
---
Il Pizzaiolo
230 South Auburn St.
Colfax.
(530) 388-8412.
ilpizzaiolowoodfiredpizza.com
The heat is on at this family-owned pizza parlor in the Gold Rush town of Colfax. In fact, it's cranked up to 800 degrees inside Il Pizzaiolo's wood-fired oven, which bakes its Neapolitan-style pies—with crusts that are at once deliciously chewy, crisp and dotted with smoky, bubbly air pockets—in just two minutes. And don't even think about calling the edges "burnt." A tongue-in-cheek sign at the front counter warns patrons that a slightly charred crust is a sign of a wood-fired pizza done right. The secret is the moisture-rich dough that goes through a two-day fermentation process to enhance flavor and airiness, a technique Il Pizzaiolo's chef and Brooklyn native Peter Lostritto learned when he spent almost a month in Italy learning the art of pizza making. It was there he had an "aha" moment about the way they do it in pizza's mother country: light on the toppings and heavy on the flavor and locality. On any given day at Il Pizzaiolo, you'll find Lostritto and his wife Jacqueline, who opened the restaurant together in 2012, slinging pies into the brick oven behind the counter, like the impeccable margherita, with a bright, tangy tomato sauce drizzled in olive oil and speckled with fragrant chopped basil and milky pools of sliced mozzarella, or the inventive Campania with slices of local Pink Lady apples, threads of red onion and crispy bacon bits. With oversized photographs of Italian landscapes on the walls and the aroma of dough baking inside the bustling kitchen, it's easy to imagine you're in the foothills of the Alps instead of the Sierras. —Tori Masucci Cummins
---
Zelda's Original Gourmet Pizza
1415 21st St.
(916) 447-1400.
zeldasgourmetpizza.com
Not much has changed at Zelda's since Illinois native Zelda Breslin opened the joint in 1978; Almost four decades later, the legendary local institution is still making some of the best Chicago-style deep-dish pizzas in the region. Zelda's decadent pies—like the mouth-watering, veg-friendly "Spinoccoli," which is liberally layered with silky spinach and crunchy broccoli underneath a generous coating of melted feta, cheddar and mozzarella cheeses, and the "Pesto" (our personal favorite), which packs a flavorful punch with juicy, thick-cut tomato slices, ample garlic and zesty pesto sauce made with basil, Parmesan cheese and more garlic (but no nuts)—are defined by the buttery, flaky crust that creeps up the edges of a 1.5-inch-deep pan. (When asked over the years about her secret, Breslin has been known to joke that she uses Bisquick.) This kind of delicious perfection takes about 45 minutes (tip: call ahead 30 minutes to place an order for dine-in), and take-out options include frozen pizzas and half-baked pies, which are wrapped in foil and sent home with finishing instructions. While the pizza is the real draw, the unchanged décor (think '70s wood paneling, antique flower pendant lamps and year-round Christmas lights) only adds to the spot's retro charm that's as classic and one-of-a-kind as the deeply satisfying pies that Zelda's dishes out. —Jessica Rine
---
Roma II Pizzeria
8491 Folsom Blvd.
(916) 383-9264.
roma2pizza.com
Opened in 1981, Roma II has been packing in crowds at its modest-on-the-outside, friendly-on-the-inside Folsom Boulevard location for decades—thanks in no small part to owner Maria Guerrera's warm and bubbly personality. (Guerrera and her late husband Giuseppe originally opened Roma on Franklin Boulevard, which is now operated by family members, as is Roma III in Carmichael.) Those qualities are shared by her pies that pack a punch. They're built on a sturdy layer of crust, with a yeasty, complex flavor from a long ripening and rising time (the dough's only ingredients are water, flour, salt and yeast). In the oven, it billows into a toothsome base for simple tomato sauce and a thick blanket of stretchy cheese. Guerrera hails from the southern Italian region of Puglia—look for the charming murals in the restaurant depicting her family and her home village of Carlantino—and her pies' bold flavors are inspired by the cuisine of her homeland. (She goes back regularly to see family and get extra kitchen inspiration.) We adore the veggie pies topped with flavorful house-made pesto (Guerrera omits the traditional pine nuts, in case of allergies), but for a real indulgence, we go for the Giuseppe Special every time. It's fully loaded, topped with pepperoni and linguiça from Saladino Meats (Guerrera's preferred brand for pepperoni cut to just the right thickness); sausage made in-house with paprika, black pepper and anise seeds; tangy olives; and mushrooms and green peppers. No wonder Guerrera's loyal customers come back year after year—including the many devotees who were kids when she first opened and are now bringing their own kids. —Kate Washington
---
MasulLo
2711 Riverside Blvd.
(916) 443-8929.
masullopizza.com
A mid-century brick building located in Land Park next to a smog shop and across from the Old City Cemetery was, in Robert Masullo's eyes, the perfect place to sling pies. He grew up in the neighborhood, after all. So in 2008 he renovated the former Chinese noodle factory with a crisp and modern aesthetic that derives warmth from long wood tables and a communal M.O. As a twentysomething, Masullo spent a few post-culinary school years in Europe apprenticing in Old World bakeries. Such invaluable immersion in the craft of heartfelt provisions made from flour, yeast, water and fire has—cue pun—given rise to truly present-day artisanal sustenance. In fact, Masullo prefers to think of his restaurant—one of pizza laureate Chris Bianco's national favorites—as a bakery that just happens to serve hot baked products to order.
The pies are sophisticated in their simplicity: Highly curated toppings are nimbly applied so not to overwhelm the thin crust; 90 seconds in a 900-degree almond-wood-fired oven achieves sublime crisp and char. As tomato sauce disciples, we can't pass up the Elisa, a delicately balanced composition topped with salty Fra'Mani salami and sweet fennel. The Jacqueline, named after Masullo's wife, is a popular white pie layered with paper-thin potato slices and lightly baptized with fontina and bacon; add an unctuous farm egg, as we often do, and you've got breakfast for dinner. The ordinary provenance of pizza—it was a street food consumed by the Neapolitan working class—is a constant touchstone. "I'm feeding gutter punks and grannies, and everybody in between," says Masullo. "All they have in common is that they're hungry and they've come my way."  —Leilani Marie Labong
---
Pizza Rock
1020 K St.
(916) 737-5777.
pizzarocksacramento.com
When George Karpaty, owner of San Francisco nightclub Ruby Skye, and club promoter Trevor Hewitt joined forces with celebrated Bay Area pizzaiolo Tony Gemignani to open Pizza Rock on downtown Sacramento's K Street in 2011, all three knew they were making a huge gamble. But they decided to go all in with what Karpaty describes as a "hard, edgy" spot where artisan pizza meets nightlife energy.
Four years later, the bet seems to have paid off big time with K Street now in the midst of a renaissance and on the verge of further transformation with the October 2016 opening of the Golden 1 Center. Meanwhile, Pizza Rock has been buzzing since day one. Guests are greeted at the door by the sound of bands ranging from Nirvana to Metallica and the crackling flames of a wood-fired oven imported from Italy that bakes Gemignani's signature Neapolitan-style pizzas (including his margherita pizza, which earned him the title of World Champion Pizza Maker at the 2007 World Pizza Cup in Naples, Italy) to a perfect crisp at 900 degrees.
The restaurant, which boasts four ovens total, also serves up an inventive medley of Roman- and American-style pies, as well as gluten-free and Sicilian. We're partial to the slightly sweet Cal Italia (layered with four cheeses and topped with fig preserve, prosciutto and balsamic reduction) and the thin-crust Eddie Muenster (made with an unexpectedly harmonious mix of ingredients like sharp Muenster cheese, fried Brussels sprouts, spicy Calabrese peppers and a drizzle of agave nectar)—they seriously rock. —Jessica Rine