The Exit Interview
The Firehouse's wine director Mario Ortiz retires after 50 years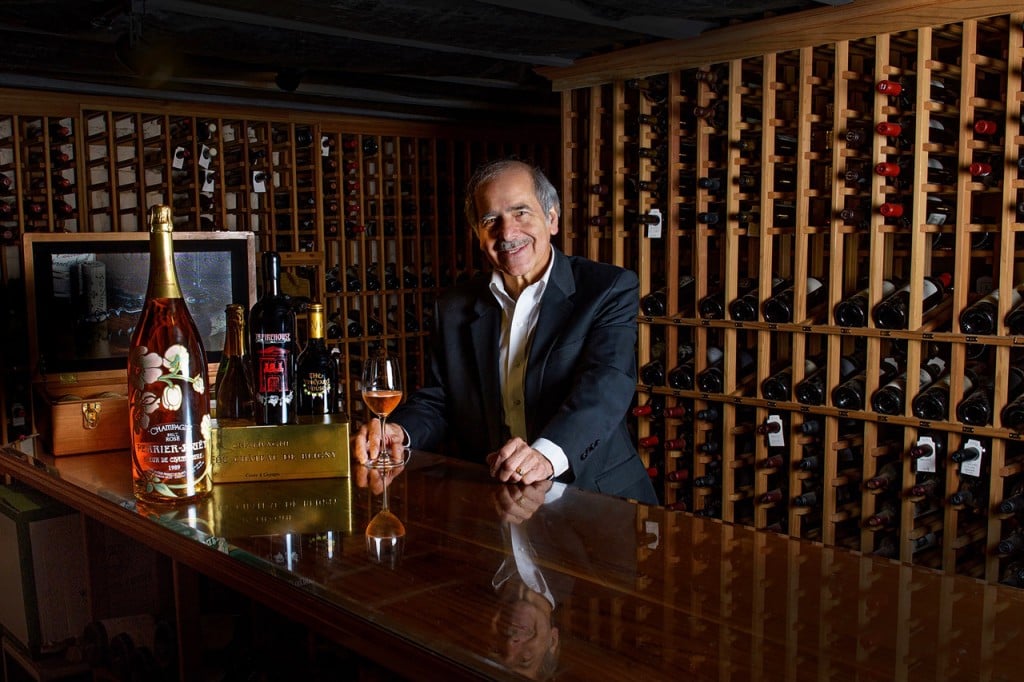 The Firehouse Restaurant's legendary general manager and wine director, Mario Ortiz, retires at the end of this month, 50 years since he started work as a busboy. He was 16 years old on that first day in 1971. Over the last half century, Ortiz built a wine list as fat as a small town phone book, and talked wine with the likes of Muhammad Ali, Clint Eastwood, Andy Warhol, Kamala Harris and Ronald Reagan, to name a few. But he's most proud of the intimate friendships with colleagues and customers—the backbone on which he says his success truly rests. With an industry profile that in today's parlance would get him labeled as an "influencer," Ortiz shaped young culinary minds and took risks that sparked trends. Let's just say that if you ordered an oaky glass of chardonnay in Sacramento in the '90s, you probably have Ortiz to thank. After interviewing him for his 40th anniversary in 2011, we thought it only fitting to check in with him on this landmark anniversary, coax some good stories out of him, and inquire about his impending shift from a focus on recommending wine to more fully pursuing a lifetime passion for painting.
Congratulations on 50 years. First question. What does the celebration call for, red or white?
It's probably going to be champagne. It just brightens my day. I see it as a beginning to the best times.
And what are you planning on spending your time on after July 31?
My art and family. I lost a lot of time watching my daughter Kate grow up, with the [evening] hours [at the restaurant] and all the holidays. The other thing would be wine, of course.
Many would be surprised to learn that you're also a passionate artist. What's your painting style?
It feels like the old Toulouse-Lautrec poster style, that's what I like to do. But also painting with enamel on wine bottles, I've been doing that as well. I've done them for Clint Eastwood, Joe Montana and Jerry Rice. I've done a lot of them throughout the years that were in auctions for nonprofits where they went for $8,000 to $10,000 each.
Speaking of wine and painting, Firehouse lore has it that you made your way into the Napa Valley wine culture by painting landscapes.
I was working at The Firehouse [as a busboy], and I used to play soccer in Napa, and I really didn't know anything about wine or wineries, but they're normally in really cool barns or buildings—very interesting architecture. And so I used to go to Napa to paint some of these landscapes. And then I one day in my early 20s, I bumped into somebody, and I asked for permission [to paint at his winery]. He said, "Of course, you can paint all you want. And then at the end, come on in and taste some wines." And I thought, well, I don't like wine. I didn't know anything about it, but he did me a favor by letting me do this on his property. So I said, "Sure, absolutely!" And who was it? Robert Mondavi. I didn't know anything about him at the time. But then I took some brochures from the winery [back to The Firehouse] and a couple of people said, "He's one of the most famous people in Napa Valley!" And I said, "Oh, I just spent three hours with him."
What was it like at that first tasting where Robert Mondavi sat you down? Did you taste the wine and hear the angels sing?
I remember saying in my mind, "Oh my God, this is totally different." And little did I know that there was something that was going to make it even better, because [Mondavi] said, "You're welcome to spit, because that way we can taste more wines." I saw him do that, and I did it, too. So you don't have to drink every sip, because if you're tasting three or four or five wines, you'd be drunk. And that's the only way I could do it because the alcohol just did not agree with me then. So I was basically drinking and spitting and learning, becoming good friends with people who worked in wine. I became friends with maybe four or five different winery owners and wine makers. Then I thought, "Oh, I can buy wine for The Firehouse because I have some new friends!" I've learned to build relationships over wine and champagne. As a young man, this was a new world for me because I grew up poor, and at The Firehouse, people were paying like, $4.50 for snails—escargot. They were vice presidents or presidents of banks, doctors and businesspeople. They were buying wines that were very expensive, but they didn't know anything about them. I met a lot of people because I could teach the president of a bank how to taste wine. And then we'd become friends because they would trust me. And when I said, "you should try this," they would buy it. That's how I became the wine buyer of The Firehouse, and we became more and more known for wine.
Back then, in the early seventies, lots of people thought wine meant a gallon jug of Gallo Chablis.
In Sacramento, The Firehouse really set the standard, in my opinion. We started selling Silver Oak cabernet sauvignon by the glass, for $29. Even Mike Dunne, the [Sacramento Bee] food critic, thought I was crazy. He said, "You'll never sell it." But we kept it on the menu at $29 a glass for 15 years. It was beautiful. I started Chablis by the glass, and it was a true Chablis from France—100 percent chardonnay by law. Chablis in California was just the leftover white wines—anything they could throw together, that was Chablis.
You're a self-made man, in that you bootstrapped your way into being one of the region's best-known sommeliers. How did you do it?
I'm not a master sommelier, but I know a lot about wine. There was one lobbyist, [a regular customer] Brooks Ellison, who really knew his wine, and we became friends and I learned my way of teaching, in an indirect way, from [talking to] him, because you want to have fun as you're talking. It was so good [talking to] Brooks, that I thought, maybe I should do this more often—become a mentor, especially with the younger people, like the bussers and the waiters.
Over the years, many have said that Sacramento's quintessential dish is Frank Fat's banana cream pie. Do you think there's a quintessential Sacramento wine?
I don't know, but I would second that one, because I love their banana cream pie.
Then what would you pair with it?
With banana cream pie? Well, I probably would have a late harvest Italian vin santo [dessert wine]. Or champagne.
You've met a lot of celebrities and politicians over the years. Any favorite encounters that stand out?
Well, one of my greatest moments in life was meeting a person who, when I got to have a glass of wine with him, that was my dream. Let's just say, I grew up collecting a bunch of stuff. I never knew what I was doing with it, but he did the same for many years, but he [became] world famous. And that was Andy Warhol. He said that everybody's going to have their 15 minutes of fame—well, me having a glass of wine with him, that was mine. I talked to him about one of the things I love to do, which is to paint with wine. I had done a painting of the Capitol here in Sacramento. I did it for Brooks Ellison, the lobbyist, and he put it in the lobby of his office. It was all painted with Jordan cabernet, and he loved it. I was painting using just the wine itself. [Warhol] wished me luck. I've also met a lot of sports people and vice presidents, governors, Ronald Reagan.
Was Reagan a wine afficionado?
He liked good wines, yes. I remember that we prepared chateaubriand for him tableside. Ol' Blue Eyes [Frank Sinatra] and Cary Grant came to The Firehouse when Reagan was governor, and martinis were a big favorite.
And I know Kamala Harris has been a customer. Does she know her way around a wine list?
Yes, she does. I met Kamala Harris when she was just becoming the attorney general. She came in with a small group, and everybody was so excited. I got to meet her and say hello, and now she's vice president. It's been an amazing journey.
What was the pandemic like for you?
It was a rollercoaster, because [the restaurant] was open, close, open, close. But we're blessed because we have an owner, Lloyd Harvego, that owns the property and we have plenty of space that we were able to serve dinners outside for a long time—rain or shine. And it's been pretty busy [lately]. I want to end with a very strong, positive exit.
Any special items on the menu to celebrate with on your last night?
The Billecart-Salmon rosé is one of my favorite champagnes. It's a very expensive champagne, but on the 31st, I might be enjoying a few glasses.
You Might Also Like
French Twist: Restaurant Josephine
Raise a glass to Sacramento's newest advanced sommelier, Elizabeth-Rose Mandalou