The Ultimate Guide to Apple Hill
For many Sacramentans, A is for Apple Hill, especially in the fall. Want to know where to go for the best homemade pies or the freshest cider doughnuts? We've got your apples-to-apples guide to the beloved region. Scroll down—your fruit-full adventure awaits.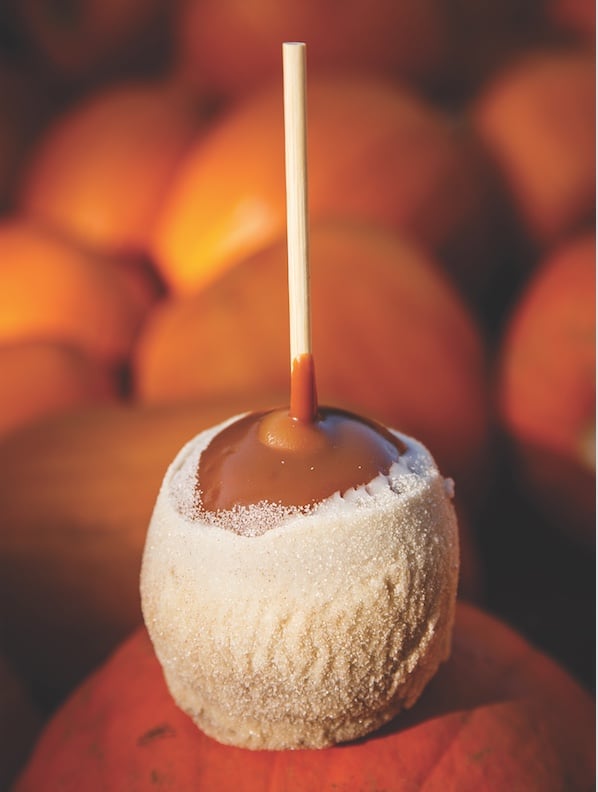 The Pie-oneers
How a band of resourceful farmers bounced back from misfortune to make Gold Country the mother lode for apple lovers throughout NorCal
The '49ers are long gone from El Dorado County—which was named, during the region's mining heyday, after a fabled place in South America abundant in gold—but now every fall its hills centered around Camino welcome an eager apple rush of visitors armed not with picks and mining pans but with ice chests, plastic forks and cameras. So just how did the bucolic, rolling countryside around the American River, once home to the Gold Rush, become better known for fruit pies than fortune hunting?
The story begins with intrepid pioneer farmers willing to make rough journeys and survive tough winters. It's hard to imagine how rugged the area once was, when today it's an easy hour-long drive from Sacramento. But in the 1860s, when the Larsen family traveled from Norway to reach then-remote Northern California, they endured many hardships, says present-day family member and former Apple Hill Growers Association board president Lynn Larsen. The clan paused in England, where twins were born only to die on the Atlantic crossing, and made their way from New Orleans upriver to St. Louis, then crossed overland by wagon, losing another baby en route.
The start of farming, however, didn't mean the start of apples. The Larsens, the region's first homesteaders, initially grew what they knew: potatoes. And the first orchard crops were pears, which increased in acreage as more families settled throughout the late 19th century. More hardship came when pear orchards were wiped out by a massive blight in the late '50s and early '60s. Area farmers, desperate and unsure what to do next, traveled to a Southern California area called Apple Country and returned with a spark in their eyes.
"The pear decline really engineered the idea for Apple Hill," says Lynn Larsen, who adds that the El Dorado farmers were inspired by Apple Country's success as a tourist destination. "They came back with the idea, 'Let's make a group, and we can get people to come up [our] way,' and they put in more and more apples." (Apple trees were not susceptible to the disease affecting pears.)
Many growers already had a few apple trees, so they knew the crop did well. Indeed, the Camino soil and climate proved ideal for apples. The 3,000-foot elevation provides ample winter chill time (which the trees need to set fruit), eons-ago lava flows have enriched the soil, and the warm summer days balanced with cool evening breezes develop both sugars and acidity, making for maximally flavorful fruit.
Enterprising farm families took the concept a step further when they started baking, making desserts like pies and turnovers to entice visitors. The idea was so successful that the bakeries could barely keep up with demand—area lore has it that overworked ovens even blew up. In 1964, the farmers officially banded together and formed the Apple Hill Growers Association. Originally comprising 16 farms, today the group boasts almost 50 members—not just orchards, but wineries, breweries, berry farms and more. Many original families remain, with third and fourth generations involved in complicated, overlapping family trees. (Numerous other bakeshops and orchards that are not part of the official association dot the area.)
Apple Hill now attracts 1.2 million visitors a year, most during the bustling fall season—a striking record of success for farmers who originally just wanted to pull in a few hungry travelers with some apple pies. Now, those pies (and doughnuts and cakes and cider) bring families back year after year, building cherished traditions. Those El Dorado forefarmers might not have been prospecting for gold, but they definitely struck a rich vein.