The Ultimate Guide to Apple Hill
For many Sacramentans, A is for Apple Hill, especially in the fall. Want to know where to go for the best homemade pies or the freshest cider doughnuts? We've got your apples-to-apples guide to the beloved region. Scroll down—your fruit-full adventure awaits.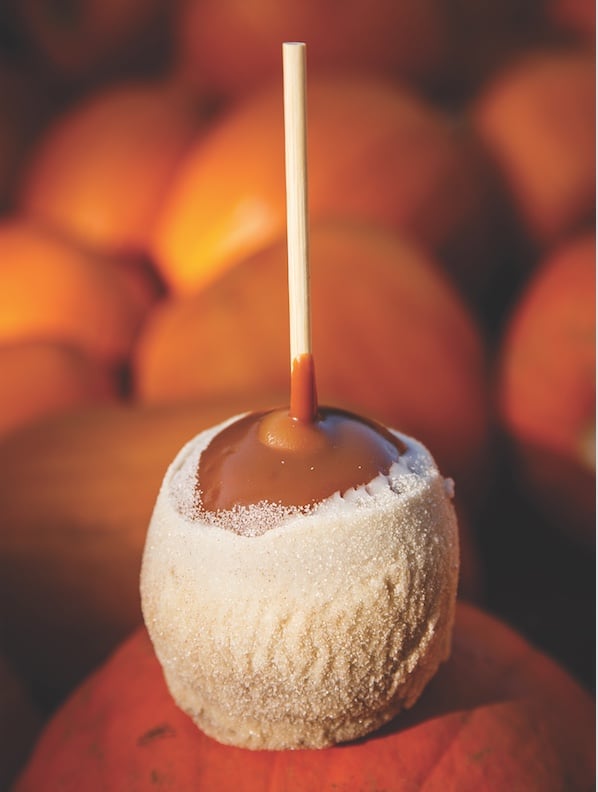 Just Desserts
Treat yourself to these five standout sweets in Apple Hill.
Rainbow Orchards' Cider Doughnuts
Rainbow Orchards' owner, "Doughnut Queen" Christa Campbell, says there's "no telling" how many doughnuts her fryer turns out to order on a typically busy day. Though the original recipe is a closely guarded secret, it's the use of freshly milled cider in the tender-crumbed, cake-style beauties that lends them their delicate, aromatic apple flavor, complemented by a lavish cinnamon-sugar coating. Back in the days when each Apple Hill bakeshop had its own unique specialty, Rainbow's originally made nothing but these doughnuts, and although they've branched out into offering other baked goods like apple crisps and blueberry pie, this signature item is what brings back loyal crowds (us included) year after year, for treats that are worth the trip to Apple Hill even if you get nothing else. 2569 Larsen Dr. Camino. 530-644-1594. rainboworchards.net
Delfino Farms' Walkin' Pie
Joan Delfino—the late matriarch of this family farm—initially created the Walkin' Pie in her home kitchen, in response to the mess her seven kids created eating wedge-shaped apple pie slices. Handheld mini pies meant the kids could take their dessert outside—which is exactly where we now like to indulge in her creation on a crisp fall afternoon. A softball-sized sphere of apples encased in pie crust and baked free-form, Delfino's popular treat has the classic cinnamon-laced taste of a bigger pie, but you can enjoy it all by yourself. Try it with vanilla ice cream or the farm's gooey caramel cider sauce; adding either (or both) un-solves the sticky problem that originally bothered Nanny Delfino, but the resulting flavor bomb is worth it. 3205 N. Canyon Rd. Camino. 530-622-0184. delfinofarms.com
Abel's Apple Acres' Caramel Apple
The thick house-made caramel at Abel's Apple Acres is the best we've tried from the Apple Hill area: good enough on its own to eat with a spoon (pro tip: the shop sells it in tubs for your late-night snacking pleasure, and it also stocks sea salt for sprinkling on the caramel), but even better thickly coating a crisp, sweet-tart fruit. We love the textural contrast of creamy, velvety sauce with a snappy fall-fresh apple. Abel's offers several other candy treats, like caramallows (fluffy marshmallows rolled in that same caramel) and fudge-dipped apples, but in our book you can't beat the classic combination of caramel and the area's apples, especially with a topping of earthy chopped walnuts. 2345 Carson Rd. Placerville. 530-626-0138. abelsappleacres.com
Fudge Factory Farm's House-Made Fudge
Although some candymakers are content to use purchased fudge bases or to settle for a good-enough recipe every year, Fudge Factory owner Jean Reinders, who has been making fudge for more than 30 years, tinkers constantly with her precise recipes (fudge must be cooked and cooled to specific temperatures to achieve its signature consistency) and invents new formulas for her 75 (and counting) flavors, many of which use farm-grown fruit, like the sweet raspberry swirl fudge. She also uses top-quality ingredients: Guittard chocolate, cane sugar (known for being more reliable in candymaking), and extra strong vanilla, and the quality shows in the amazing rich flavor and silken texture of this unparalleled fudge. 2860 High Hill Rd. Placerville. 530-644-3492. fudgefactoryfarm.com