Love Shack
The Urban Roots team brings new life to a beloved East Sacramento hangout, retaining its unique flavor while reimagining it with a Mexican comfort menu. Cervecería at The Shack, welcome to the neighborhood.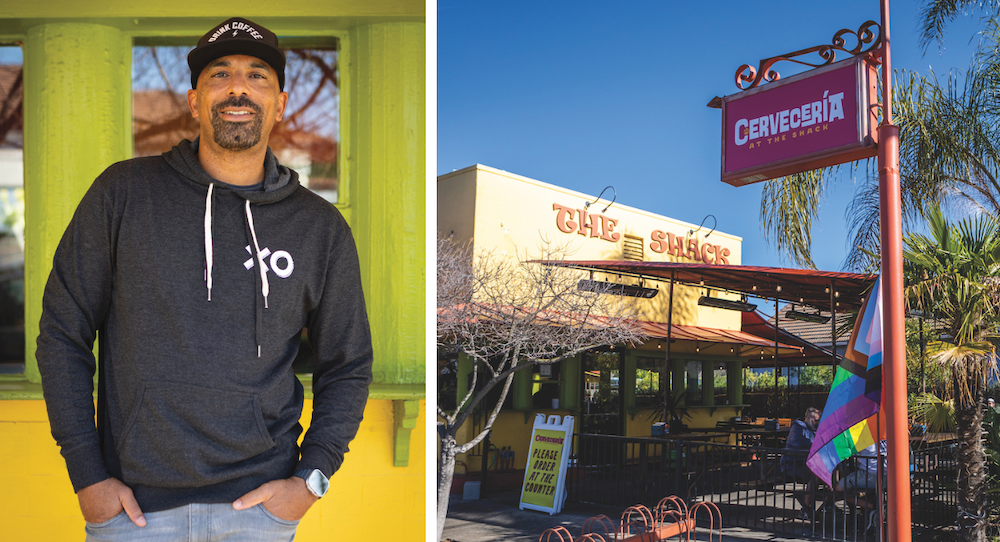 Rob Archie did not set out to build a restaurant empire. But he needed to save The Shack.
"I had no plans to expand," says Archie, owner of Pangaea Bier Cafe and co-owner, with brewer friend Peter Hoey, of Urban Roots Brewing & Smokehouse and Bawk by Urban Roots.
But when his old pal Gary Sleppy called Archie last summer to say that he and his wife, Jen, were retiring and closing The Shack, their modest yet venerated East Sacramento pub, Archie had to jump in.
"I didn't want to see The Shack go," Archie says. He had history with the place, and Gary Sleppy. Brothers in beer, Sleppy and Archie had each opened neighborhood burger-and-tap-handle spots a few years apart—The Shack in East Sacramento in 2005 and Pangaea in Curtis Park in 2008, respectively—and helped each other thrive despite the Great Recession.
Sleppy advised Archie on the burgeoning craft beer scene. The two traveled to Belgium together, returning with invaluable knowledge and hard-to-find saisons. They helped pioneer Sacramento Beer Week and forged a bond that would ultimately lead to Archie and Hoey relaunching the Sleppys' sandwiches-and-beer spot as a tacos-and-beer restaurant called Cervecería at The Shack in late October.
Spiffed up from its previous incarnation yet still amiably funky, the boxy, circa-1930s building holding Cervecería ("brewery" in Spanish)—which originally housed the hot-dog-and-root-beer stand Doc's Place—lacks the hipness factor of the duo's previous ventures, by design.
"I wanted to pay homage and let people know we did not do anything crazy to change the feel of the place," Archie says of featuring "The Shack" in both name and vibe at Cervecería. So while the many beer signs that once happily cluttered The Shack's interior were removed, along with a big cabinet over the bar, "we didn't do anything architecturally" to alter the space, he adds.
The most notable new features are a stand holding various types of fresh salsa (I recommend the creamy avocado tomatillo, for its garlic and green onion punch) and the occasional line of people waiting to order, given a move to counter service from The Shack's full-service model.
The cuisine moved too, from American comfort to Mexican comfort, complete with fresh tortillas made daily on an outdoor grill from heirloom Oaxacan corn. On the rainy January day I visited, the tortilla operation provided the only action on the famous, wraparound patio that drew crowds to The Shack on sunny days. But the surprising number of people holed up indoors, dining and drinking on a midweek afternoon, foretold a busy outdoor dining season to come.
Tacos are "my favorite thing to eat with beer," Archie says, explaining his choice of cuisine for Urban Roots' newest spot. Surrounded by taquerias and food trucks while growing up in Woodland, Archie developed a love for the south-of-the-border staple early, and ate Mexican food every day while attending San Diego State, he says.
You can taste the San Diego in Cervecería's standout shrimp tacos and fish tacos. Head chef Garett Rodriguez infuses the batter coating the seafood with vodka and Urban Roots' Luna de Miel amber lager, which has quickly become the taqueria's flagship brew. The alcohol helps keep the succulent shrimp and cod crisp as they emerge from the fryer, before being wrapped in remarkably fresh-tasting corn tortillas and garnished with earthy chipotle crema and slightly sweet cabbage slaw.
"Most of my Mexican food cooking was done at home, but Mexican was the food I grew up eating and the food I wanted to get back to cooking," says Rodriguez, formerly a sous chef at Bawk and chef de partie at the Michelin-starred fine dining establishment The Kitchen.
Naturally, the dishes at Cervecería pair well with beer, yet are too thoughtfully conceived and executed to be characterized as mere "bar food."
"All the details have been considered," says Rodriguez, who developed the menu with Urban Roots group's culinary director Greg Desmangles, down to the invitingly tangy char of the grilled pineapple in Cervecería's al pastor taco. The restaurant's kitchen staff assemble the taco so that "each bite gets a little bit of the pineapple" to complement the mesquite-grilled pork seasoned with a marinade that includes pineapple juice. Pineapple proves its versatility again as part of Urban Roots' spiky Piña Pale Ale brewed specifically for Cervecería.
Among the Urban Roots beers that Cervecería keeps on tap, bar manager Onesimo "Ness" Martinez recommends the citrusy Like Riding a Bike for the seafood tacos, and the light Luna de Miel to "balance out" carne asada and other meaty tacos.
His excellent michelada—a wonder of both depth and crispness—starts with Luna de Miel and adds Crystal hot sauce, Worcestershire and Maggi seasoning, as well as other ingredients that the mixologist, understandably, will not reveal. Working from a full bar, Martinez—who previously served as bar lead at Bawk—also whips up dreamy specialty cocktails. I especially liked the seasonal pomegranate whisky sour, a haze of sweetness and (optional) egg white brightened by lemon and pierced by Old Forester bourbon bite.
Every month or so, Cervecería lends some of its taps to a new guest brewery from outside the region. This "residency" program recently featured Seattle's Cloudburst Brewing and offers access to beers otherwise unavailable locally.
With a growing profile of Sacramento businesses that also includes The Roost, a speakeasy-style bar inside Bawk, Archie and Hoey have moved into the Selland, Paragary and Fat groups' territory.
It all began with Pangaea Bier Cafe, which Archie opened 15 years ago with little restaurant experience, but a lot of love for the pub and cafe culture he experienced while playing pro basketball in Europe. He spent a lot of time on the job learning the hospitality business, discovering his aptitude for it along the way. "It took me 10 years to open another place," Archie points out, referring to when he partnered with Hoey to launch Urban Roots Brewing & Smokehouse in 2018. As you might expect from a beer guy, what Archie likes most about Urban Roots' emerging consortium is the camaraderie behind the scenes. He cites a crew that includes Hoey, Martinez, Rodriguez and Desmangles, Archie's nephew and culinary director who started as a Pangaea busser.
"What's really cool is just being part of an inspired team," Archie says. "It was different owning Pangaea alone, and you feel like you're the one who's got to make it go. Now, you are working alongside people who are just as inspired as you are, and knowledgeable in things you're not. Cervecería is a great example of that."
Cervecería at The Shack. 5201 Folsom Blvd. 916-346-4677. cerveceria916.com
Learn About More Great Places to Eat
Chow Bella – Willow brings Southern Italian cuisine to downtown Sacramento
Good Juju – Chef David English opens Juju Kitchen & Cocktails
Planting Ideas – Burger Patch expands into Land Park and launches an innovation lab