Sitting Down with a Good Book
Many cities have combined street furniture with great literature to beautify urban landscapes and improve literacy. Let's take a page from that book.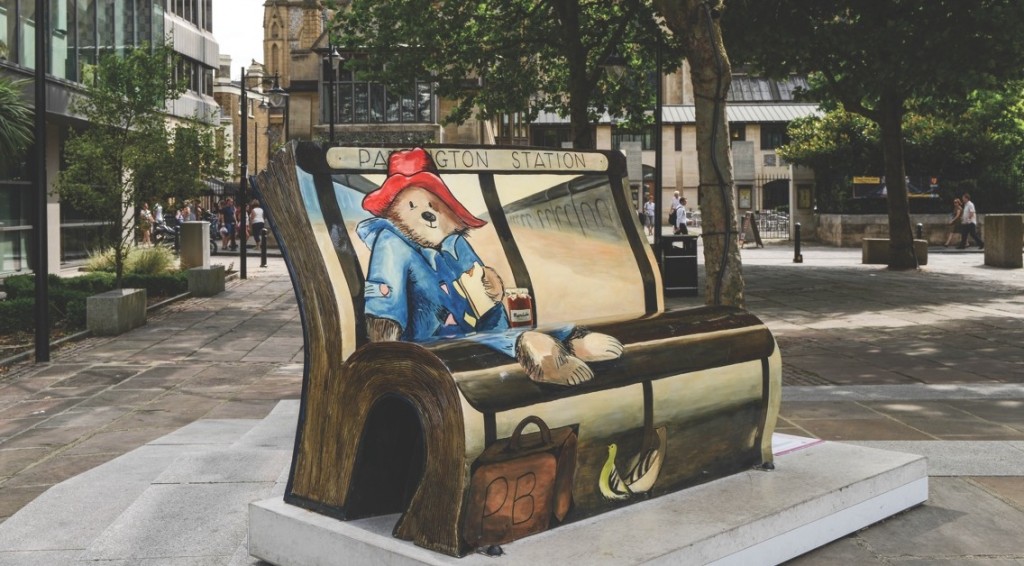 The Idea
In 2014, the United Kingdom's National Literacy Trust partnered with the British-based arts group called Wild in Art to raise awareness and funding for literacy programs in underprivileged communities. The concept: Fabricate and paint 50 public benches that resembled celebrated works of literature in the shapes of open books placed throughout London, with homages to Sherlock Holmes, William Shakespeare, Oscar Wilde and others.
Not only did the project, coined "Books About Town," beautify the city from July to September, but each bench was then auctioned off to inject much needed funding into regional literacy programs.
Soon, other communities around the world followed suit. In 2017, the city of Naperville, Illinois, launched a similar program, with 15 benches paying tribute to children's book series like Harry Potter and Curious George. Danielle Tufano, executive director of the Downtown Naperville Alliance, which organized the effort, says it was "a way to encourage people to come downtown and hopefully shop and dine while they're here."
In 2018, in Lexington, Kentucky, several local arts groups partnered with the Carnegie Center for Literacy & Learning to produce 37 fiberglass book benches—all based on works by writers from the Bluegrass State like Hunter S. Thompson—"to celebrate Kentucky's literary heritage, to encourage reading, and provide a place for rest." Montgomery, Alabama, launched its own version of the concept the next year, with benches taking up permanent posts at area libraries, cultural centers and public schools.
Here in Sacramento, as the state capital, we could honor California authors, including those with ties to our city, such as Joan Didion (who passed away in December), Cornel West, Raymond Carver, Richard Rodriguez, William T. Vollmann and Mark Twain, who filed stories for the The Sacramento Union that later became a book.
The Players
The city of Sacramento's Office of Arts and Culture could get the pages turning by partnering with local literacy and arts groups to make this a reality here. It would provide paid work and exposure for local artists, promote reading, and enliven the city all at once. Downtown Sacramento Partnership and Midtown Association could also be organizing forces, along with the Sacramento Public Library system.
The Bottom Line
In London, the project raised more than $400,000 for regional literacy programs by auctioning off its 50 benches. In Lexington, area businesses and individuals sponsored benches, which were then auctioned off at a gala event at the conclusion of the project. In Naperville, local businesses sponsored benches for $1,200 each and the cost to produce the benches was about $1,000 to $1,500 apiece. As for compensating creatives, in Montgomery, a dozen artists were paid $1,000 each to paint the permanent benches there.
Regardless of how we organize our own such endeavor, one thing is for certain: Celebrating books and public art, while simultaneously helping those in our community, has the potential to become an instant classic.
View this post on Instagram
View this post on Instagram
View this post on Instagram
View this post on Instagram
View this post on Instagram
Want to Learn About More Inspiring Ideas We Can Bring to Sacramento?
–Fit for a King – Honoring Martin Luther King in California's Capital
-Trash Talk – A School of Large-Mouth Garbage Gobblers in River City
-Why Not Here? 15th Anniversary Edition – 15 Ideas From Over the Years