Two notable local chefs launch Cardinal Burger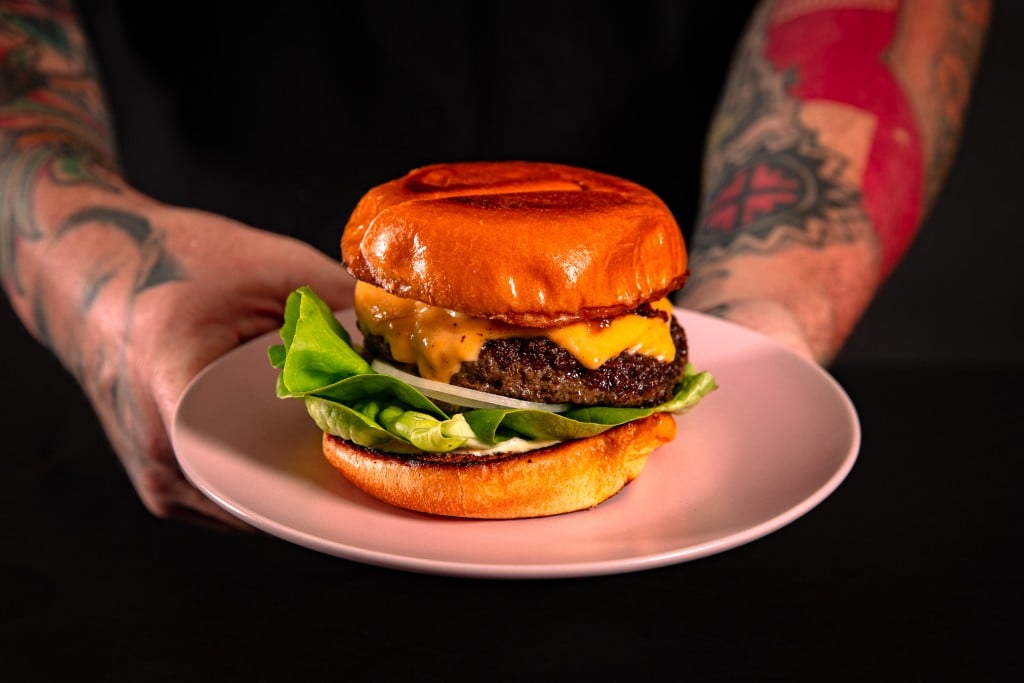 Update: Cardinal Burger's second pop-up is scheduled for July 10 at The Flamingo House in midtown, with other future events planned at Ten Ten Room, Tiger and the This916 block party. Keep your eyes peeled on the restaurant's Instagram page for future updates, including which burgers will be available.
* * * * * *
The chefs behind the new Cardinal Burger pop-up will trade in their brick-and-mortar restaurant kitchens for a parking lot plancha when they host their first event on June 18-19 at downtown's Elixir Bar & Grill.
Brock Macdonald (LowBrau, Beast & Bounty) and Ricky Yap (Kru) have departed their restaurant jobs to focus on culinary passion projects. Inspired by the way sneaker companies drum up excitement through limited-quantity shoe drops, the chefs will only make 200 burgers available on each day of the inaugural weekend, with pre-orders starting today at 4:30 p.m.
What's more, Cardinal will be flipping just two options at the first event—one per day. On deck for this Friday is a smash burger: a crispy-seared 3-ounce beef patty served with caramelized onions and a melty slice of American cheese—"the only cheese that should go on a burger," says Yap—nestled between two halves of sweet Filipino pandesal buns from Valerio's Tropical Bakeshop in South Sacramento. The Saturday special is the heftier "OG Burger," a succulent, third-pound beef patty liberally seasoned with salt and pepper, then stacked with American cheese, crisp lettuce and sliced white onions for bite. As the final "animal-style" touch for this elevated take on—to mix our fast-food references—a Big Mac, the buttery brioche is slathered in an umami-rich "Cardinal sauce" made of shallot and shio koji-infused mayo.
The burgers will also come with a side of macaroni salad made with Japanese Kewpie mayo, plus a house-made snack mix of Honeycomb cereal, Bugles, and wheat Chex baked with a confetti of furikake, a nori-based Japanese seasoning. Locally made Burly Beverages sodas and zero-proof cocktails like the Uptown Sling—a tropical punch of hibiscus tea, orange soda, pineapple-aloe juice and Jamaican bitters—will serve as thirst quenchers.
The pared-down offering is an attempt to eliminate decision fatigue caused by lengthy menus and to stay true to the pop-up's cardinal rule: "Have It Our Way"—a nod to the Burger King slogan.
" 'Have It Your Way' worked in restaurants all these years, and Brock and I have lived by that rule," says Yap, who is also the cofounder of the virtual-cooking-class series, Homeskool'd. "Now we want people to try things our way."
Macdonald won the 2019 Sacramento Burger Battle with his signature burger from Beast & Bounty (a half-pound, house-ground beef patty crowned with onions softened and sweetened in hot ashes, plus salt-and-pepper heirloom tomatoes, on brioche), adding the street cred needed to give other more established burger joints a run for their all-beef patties, special sauce, lettuce, cheese.
In the months leading up to Cardinal's launch, the chefs hosted "burger omakase" events at Macdonald's West Sacramento home. One of the dishes served at our Sunday night tasting was a meat-on-meat treat—a 4-ounce beef patty topped with a stack of 18-hour hickory-smoked brisket slices. Smoky and rich, the sandwich—brightened by puckering banh mi-style pickled vegetables—won't make the June menu, but it will likely debut in July at Cardinal's second pop-up.
Macdonald and Yap aren't the only chefs to leave kitchens at standout brick-and-mortar eateries for greener pop-up pastures. The pandemic has prompted many chefs to take to the streets in an attempt to gain greater creative ownership, schedule flexibility and, with any luck, a bigger share of the pot.
While neither Yap nor Macdonald have plans to move Cardinal into a shopfront anytime soon, it's not outside the realm of possibility.
"If we do go back into the kitchen, it's going to be our kitchen," says Yap.
Cardinal Burger's first pop-up is this weekend—June 18-19. Friday, 8 p.m. Saturday, 5 p.m. 1815 10th St. Follow Cardinal Burger on Instagram. You can pre-order your meal through Tock.
You Might Also Like
Craving of the Week: Nash & Proper's Ice Cream Chicken Sammich
Darling Aviary, A Rare Bird
Sacramento chefs take you back to school with live cooking classes