There's No Place Like Home
A highly subjective, indisputably incomplete, utterly defensible list of compelling reasons that make us #SacramentoProud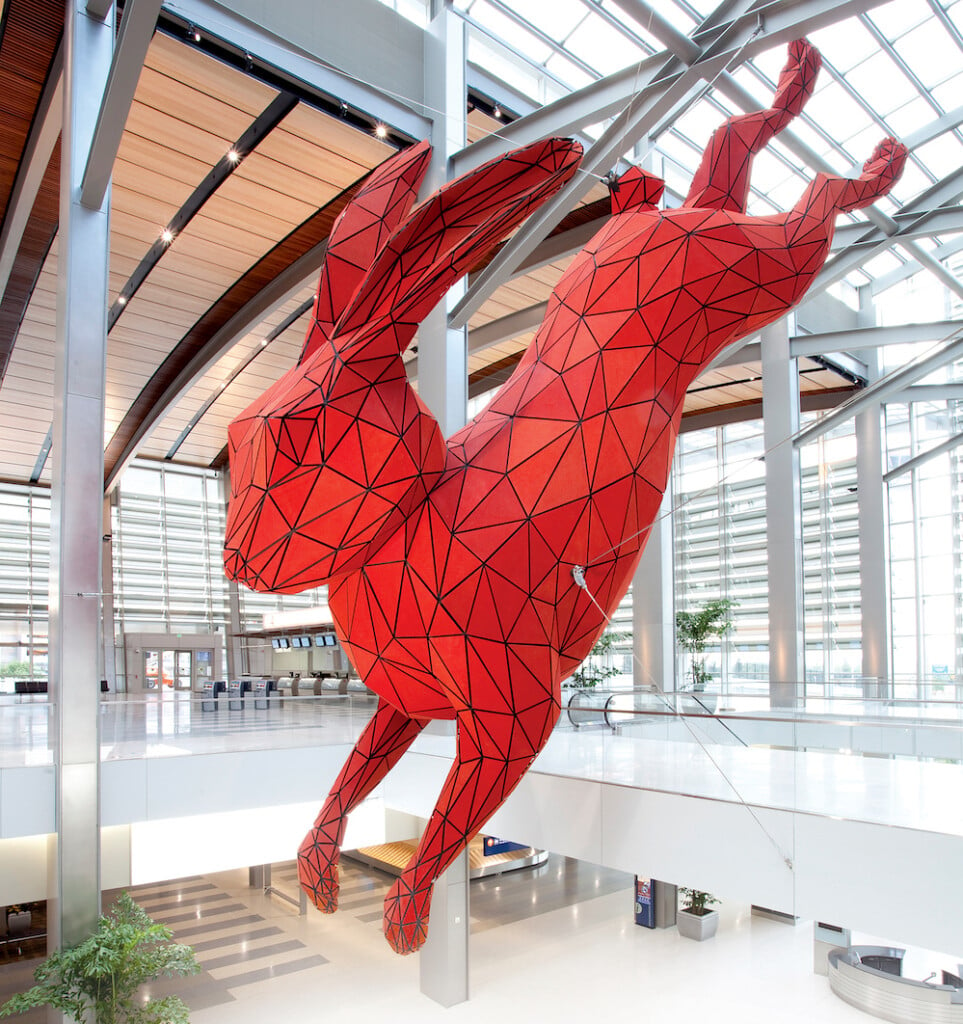 Because home is where the hare is
When Sacramento International Airport's new billion-dollar Terminal B opened in 2011, its visual centerpiece—a 56-foot-long aluminum sculpture of a red hare by the late Denver artist Lawrence Argent-was impossible to miss. Despite a few initial detractors, including one county supervisor who expressed a concern for this particular creature's "proclivity for reproduction." Leap has been wowing travelers ever since. One can only hope this level of art is, shall we say, reproduced in Sacramento for generations to come. It is, to us, a giant leap forward for public art in our hometown.
Read our 2012 call for more large scale art like Leap: Massive Appeal

Because here we roar
Our city's sports fans—like the Sacramento Republic fans pictured here and their Sacramento Kings counterparts—are the most thunderous, passionate, enduring and… patient.
Read our 2019 profile of Republic FC's Tower Bridge Battalion: Field of Screams
Because our stars are simply Marvel-ous
Homegrown celebs who have contributed to the Marvel universe include Jesuit High alum Chris Sullivan (who played Taserface in Guardians of the Galaxy Vol. 2 and is pictured above on the left with GOTG2 co-stars Michael Rooker and Sean Gunn), Sacramento State grad Ryan Coogler (director of Black Panther and its sequel Wakanda Forever, coming out on Nov. 11), and Sacramento natives Brie Larson (Captain Marvel) and Jessica Chastain (X-Men: Dark Phoenix). Not to mention, Christopher Markus and Stephen McFeely (both UC Davis class of '96) wrote Avengers: Infinity War, Avengers: Endgame and Thor: The Dark World, along with all three Captain America films. Sacramentans assemble!
Read our 2017 Q&A with Chris Sullivan about Guardians of the Galaxy Vol. 2 and This Is Us.
Because Ruthie Bolton uses her might to lift others up
When the WNBA's Sacramento Monarchs took the court for the first time in 1997, they did so having landed a major coup with their first franchise player, Ruthie Bolton. After all, she already had two NCAA division titles and two Olympic gold medals under her belt and had made the cover of Sports Illustrated. Over the course of eight years, she propelled the Monarchs to three conference finals, and in the ultimate sign of respect, the team retired her jersey in 2005. All the while, she carried a secret—that she had been the victim of domestic violence by her first husband, a truth she detailed in a 2016 ESPN documentary called Mighty Ruthie. Since retiring from professional sports, Bolton has devoted her life to coaching basketball and volunteering to help other women who had suffered a similar fate. In our 2016 profile, she told us her new mantra: "Claim your power. Your power becomes your purpose, and your purpose becomes your peace." Mighty Ruthie, indeed.
Read our 2016 profile of Ruthie Bolton: A Mighty Heart
Because our rivers give us life
Behold the amazing confluence of the Sacramento and American rivers. These life-giving arteries feed our crops, provide our drinking water and—especially when we were a young city—provided transportation for both goods and people. Oh, and the American brought the world to our door (and shores) after some shiny metal was spotted in its waters in 1848. Over 150 years later, hope still floats as modern-day prospectors continue to go for the gold.
Check out our 2017 "Eyes in the Sky" photo essay, featuring stunning straight-down images of our region: Eye in the Sky
Because the best of us bring their best to others
When Covid hit and dining establishments had to pivot to takeout-only in March 2020, a group of compassionate Sacramento restaurateurs found a way to keep cooking and help those in need. The brainchild of Patrick and Bobbin Mulvaney, and Clay Nutting and Brad Cecchi of Canon, Family Meal Sacramento distributed 400 free, precooked meals a day to local students during its first week. By the second week, the team was providing 800 free meals per day and soon expanded to feeding seniors, people with disabilities and others, inspiring California's Great Plates Delivered program. The latter ended in July 2021, but the Family Meal folks are still serving the community through their partnership with the county of Sacramento and Sierra Health Foundation, and we'd like to give them a chef's kiss for their altruistic efforts.
Read our 2021 Q&A with Patrick and Bobbin Mulvaney: Stronger Together
Because this sci-fi scribe is out of this world
Davis-based author Kim Stanley Robinson—who is perhaps best known for his classic Mars trilogy—"is generally acknowledged as one of the greatest living science-fiction writers," according to The New Yorker. His 2020 work, The Ministry for the Future, made the list of former President Barack Obama's favorite books of that year and has received widespread praise for its stark yet hopeful look at what climate change may mean for the years and decades ahead.
Read our 2022 Q&A with Kim Stanley Robinson and our 2017 profile of the author

Because Greta Gerwig gave us wings too
In November 2017, the Sacramento-centric film Lady Bird by native daughter Greta Gerwig (seen here at the movie's premiere at the Tower Theatre) broke an 18-year-old record set by Toy Story 2 "as the movie with the most consecutive 'Fresh' reviews and zero 'Rotten' reviews against it," according to Rotten Tomatoes. A couple of months and countless new raves later, Lady Bird went on to win a best picture award at the Golden Globes. During her acceptance speech, Gerwig thanked "the people of Sacramento who gave me roots and wings and helped me to get where I am today." Even better: The writer-director plans to make at least two more films here. We can't wait for her to fly back home, and we thank her for taking us along for the magic red-carpet ride.
Read our 2017 profile of Greta Gerwig: Homecoming Queen
Because America's literary giants have told our stories
Two hometown authors—Joan Didion and William T. Vollmann—won the National Book Award (the best picture Oscar of the literary world) on the same evening in 2005, she for fiction and he for nonfiction. As the San Francisco Chronicle reported the following day, "For a couple of hours Wednesday night, the literary center of the nation shifted to Sacramento." Sadly, Didion passed away last December at the age of 87, but Vollmann's trajectory continues this December with a two-volume release of photographs, artwork and essays called Shadows of Love, Shadows of Loneliness.
Read our our 2011 conversation with Didion, Where She Was From, and our 2018 profile of Vollmann, The Curious Case of William T. Vollmann
Because we're the caviar capital of America
Yep, you read that right. Thanks largely to the presence of Sterling Caviar's California sturgeon farm just north of Natomas, an estimated 80% of the nation's domestic caviar comes from Sacramento County. It's the good stuff too. Renowned chefs like Thomas Keller, Michael Mina and Jean-Georges Vongerichten have served the Elverta-raised eggs at their Michelin-starred restaurants, helping the company become the biggest producer of caviar in the country. And that's no fish tale.
Read our 2009 profile of Sterling Caviar: The Incredible Edible Eggs
Because we say bienvenue and salaam to all
Sacramento welcomes immigrants and refugees with open arms and hearts. More than 20,000 refugees have resettled in the county over the past 15 years. We have the highest concentration of Ukrainian immigrants in the U.S.—glory to Ukraine!—and one in nine Afghan natives living in the United States reside here. If you want to be moved to tears by beautiful stories about what it means to be a new American, talk to the participants at one of the many naturalization ceremonies around town like the one pictured here at Memorial Auditorium in 2018. Fun fact: Sactown was founded by one native Sacramentan and one immigrant from South Korea who became a U.S. citizen at the gorgeous Crest Theatre 16 years ago.
Read our 2018 interviews with more than a dozen newly sworn-in citizens: All Americans
Because Russ gave us Tower fricking Records
Russ Solomon founded the coolest record store in the entire world. In the Tower Records documentary All Things Must Pass by Sacramento natives Sean Stuart and Colin Hanks (pictured here with Solomon in his Sierra Oaks home in 2014), Elton John said, "I can honestly say this without any exaggeration: I spent more money in Tower Records than any other human being."
Read our 2015 cover story on Tower Records and the making of All Things Must Pass: A Long, Strange Trip
Because this comedian seriously reps the 916
Born and raised in Davis, Hasan Minhaj cut his stand-up teeth at spots like Punch Line Sacramento and Laughs Unlimited, eventually landing in New York as a correspondent for The Daily Show in 2014. He went on to host his own talk show, Patriot Act, and just released his second Netflix special in October. Take a look at our recent cover story to read all about our very own king of comedy who says he's never giving up his 530 phone number and has taken his "pride of being from the 916 to the 917."
Read also our 2017 conversation with Hasan Minhaj: Return of the "King"
Because we bring out the state's greats
When Arnold Schwarzenegger was elected governor nearly 20 years ago, one of our favorite byproducts of this political and cultural anomaly was first lady Maria Shriver's idea to create a California Hall of Fame in Sacramento to celebrate the best of the Golden State. The inaugural ceremony was held in 2006, and in addition to paying tribute to posthumous honorees like Walt Disney and Jackie Robinson, the annual event brought big, boldface names to town too, like Jack Nicholson, Barbra Streisand, Harrison Ford and Serena Williams. Happily, the inductees have also included hometown treasures, including painter Wayne Thiebaud, writer Joan Didion, Tower Records founder Russ Solomon, poet Gary Snyder, pilot Chuck Yeager and design icon Ray Eames. After going dark or virtual the past two years, the 2022 CA Hall of Fame fête took place on Dec. 13 at downtown's California Museum. But if you missed the starry, starry night, don't worry: The accompanying exhibit—featuring artifacts like Peggy Fleming's Olympic gold and Lynda Carter's Wonder Woman costume—will be on view through October.
Read our 2007 cover Q&A with Maria Shriver about the California Hall of Fame
Because this civic leader has Sacramento on the right track
Say the words "public transportation" and countless eyelids will begin to droop in near-perfect synchronicity. But when it comes to tackling issues like climate change and smart housing and creating a healthier, more equitable city that is less reliant on gas-powered vehicles, you have Sacramento Regional Transit CEO Henry Li to thank for helping lead the fight to make this a better city for everyone. In 2019, Li won mass transit's equivalent of an Academy Award for best director when he was named Outstanding Public Transportation Manager by the American Public Transportation Association. Then just last year, the agency he leads won the award for Outstanding Public Transportation System of the Year. With Li in charge, our region's rides are certainly heading in the right direction.
Read our 2021 profile of Henry Li: Getting Back on Track
Because this homegrown hero is a superhero in his hometown
Most people know Arik Armstead as a star defensive end for the San Francisco 49ers. But during the pandemic, many also got to know the Sacramento-born, Elk Grove-raised athlete as the man who was helping local restaurants survive the lockdowns and offering a hand to local disadvantaged kids though his nonprofit Armstead Academic Project, which is still going strong. "I love being from here," Armstead told us in 2020 when he had just moved back home after years away. "I love how united our city is—the diversity in our city. It's a great place to grow up, and it's a great place to raise a family." And he should know. He and his wife Mindy welcomed their second daughter into the world in June.
Read our 2020 cover Q&A: NFL Star Arik Armstead Has a Few Things to Say
Because our farmers think different
A Yolo County farmer named Craig Reynolds is leading the Mezcalifornia charge, growing the unlikeliest of crops—agave, which is used to make mezcal, in Woodland with the goal of establishing a robust agave industry north of the border. One side effect of global warming is that our drier landscape and hotter weather have created the right conditions for cultivating the succulent. And because these plants are fire-resistant, they can also create natural wildfire barriers in a state that increasingly needs them.
Read our 2020 profile of Craig Reynolds: Once Upon a Time in Mezcalifornia
Because this native daughter inspired the world—and still does
The late, great Ray Eames—who would have turned 110 this Dec. 15—was born and raised in Sacramento. She and her husband Charles revolutionized design in America and helped define mid-century modern, especially in the world of furniture design, with enduring creations like the Eames Lounge Chair and Ottoman that remains as in vogue today as it was in the '50s and '60s. Ray was simply one of the most notable designers this country has ever produced, and we're proud to call her one of our own. We're so proud, in fact, that the very font you're seeing now—which we've been using since we started Sactown and was inspired by the duo's extraordinary work—is called Eames Century Modern.
Read our 2013 profile of Ray Eames: All About Ray
Because we have the ultimate spin city in our own region
The very first bike lane in America was built in Davis in 1967. And just as importantly, it was also our country's very first protected bike lane, one that was physically separated from traffic (like all good bike lanes should be). As if that weren't enough to get the civic wheels turning everywhere, the city also installed the nation's very first protected intersection in 2015. We think it's more than earned its nickname as the Bike Capital of America.
Read our 2014 feature on how we can become a more bike-forward region: Changing Gears
Because this hometown grocer is our knight in blue-smock armor
In a 2001 book by then editor-in-chief of Gourmet magazine Ruth Reichl, local grocer Darrell Corti was deemed the person who "knows more about food and wine than anyone else in America." In fact, in 1992, the Italian government bestowed upon him the equivalent of knighthood for his work as an ambassador for Italian food and wine. "If that were Britain," his friend and wine expert David Berkley told us, "we'd be calling him Sir Darrell." And in 2008, when his store Corti Brothers was threatened with eviction, the city's top chefs rallied behind him (pictured). Happily, justice—and good food—prevailed.
Read our 2012 profile of Darrell Corti: The Tastemaker
Because we've got the whole world in our nut-filled hands
On multiple occasions through the years, Jeopardy! has featured clues that read, "The Almond Capital of the World." If you guessed, "What is Sacramento?" you would have been right. Home to Blue Diamond, the world's largest almond processor, Sacramento ships whole almonds, almond snacks and almond milk all over the planet. In fact, globally, 80% of all almonds, two-thirds of all walnuts and nearly half of all pistachios are grown in the Central Valley. And nationally, almost 100% of them come from here. Now all we need is for Blue Diamond to bring back its "mile-long" factory tour that ran from the 1960s to the 1990s. Reopen it and the world will go nuts.
Read our 2013 essay on resurrecting Blue Diamond's factory tours: Almond Joy
Because this local doctor is trying to make America safer
Emergency medicine physician Garen Wintemute, who founded UC Davis' Violence Prevention Research Program in 1991, has been working tirelessly to reduce gun violence for decades. His research even helped make the 1994 federal assault weapons ban a reality. After the law sunsetted a decade later, mass shootings in America soared. It turns out that the most powerful tool to fight a bad guy with a gun is a good guy with a ton of gun knowledge.
Read our 2019 profile of Garen Wintemute: Armed with Knowledge
Because this Sacramento writer's hunger of memory nourishes our soul
Richard Rodriguez moved to Sacramento as a young boy knowing only 50 words of English, enrolling at East Sacramento's Sacred Heart Parish School and later at Christian Brothers High School. But his passion for the language ultimately led him to attending Stanford, Columbia and Berkeley, setting the stage for a distinguished career as an essayist, journalist and author, which has included earning a Peabody Award for his on-air pieces on PBS's The NewsHour with Jim Lehrer. And this year marks the 40th anniversary of his seminal work, Hunger of Memory: The Education of Richard Rodriguez. In our 2013 profile of the writer—published on the eve of his book Darling: A Spiritual Autobiography, which explored in part the conflict between his Catholic faith and his sexuality—Lehrer told us, "Richard is one of the few intellectuals who talks and writes in the language everyone speaks. He finds meaning in the ordinary events in the lives of ordinary people."
Read our 2013 profile of Richard Rodriquez: Finding His Religion
Because … Wayne
A year before Wayne Thiebaud passed away last Christmas at age 101, an auction record was set for the local painter when his 1962 piece Four Pinball Machines sold for $19.1 million at Christie's. Far more important was that the artist, who was best known for his luscious dessert works, dedicated his life to teaching generations of students at UC Davis and Sacramento City College. In 2001, mirroring our sentiments, The New York Times' then chief art critic Michael Kimmelman wrote that "if the world were a perfect place, the Wayne Thiebaud retrospective that has just opened at the Whitney Museum of American Art would be nailed to the walls for good and we would be free to stop by whenever we needed to remind ourselves what happiness feels like."
Read our 2010 profile of Wayne Thiebaud published on the eve of his 90th birthday and our 2020 conversation with the painter, which took place on the eve of his 100th